Prof. B.Mohan Kumar conducts a webinar cum seminar at the University of Missouri-Columbia 
June 24, 2016
On June 22, 2016 Professor B. Mohan Kumar, the Acting Dean of School of Ecology and Environment Studies at Nalanda University, conducted a webinar cum seminar titled "India's National Agroforestry Policy: Challenges and Opportunities" at the University of Missouri-Columbia where he is a visiting faculty for the summer.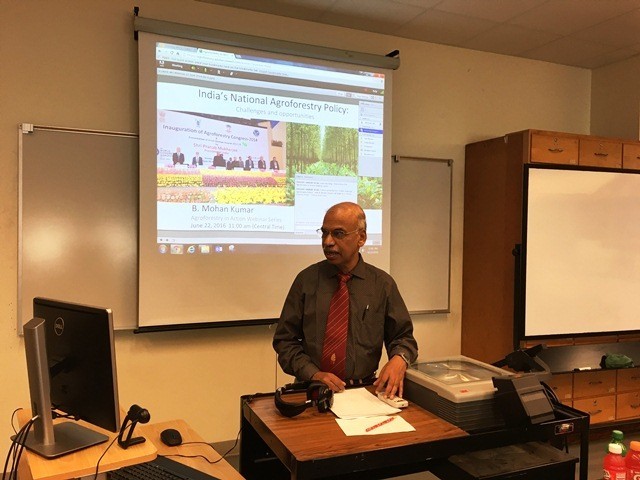 This webinar cum seminar had live as well as online participants and was a part of the Agroforestry in Action Webinar Series, a production of the Center for Agroforestry at the University of Missouri-Columbia, Missouri, USA.
Professor Mohan Kumar discussed the progress to date and challenges faced in the implementation of the National Agrofoestry Policy in India since it's adoption in February, 2014.  He talked about how India is the first country to have articulated and adopted a comprehensive national policy on Agroforestry. He also elaborated on how the policy, overseen and implemented through a National Coordinating board and the participation of multiple ministries, aims to increase the percentage of tree cover in India while increasing farm incomes and reducing climate risk. He explained that the main strategies for achieving this are through simplification of regulations in the forestry sector, land reform, research, new financing mechanisms and education and outreach.