An Exploratory Trip to the Barabar Caves
March 30, 2015
On March 20, 2016 a group of students and faculty went for an exploratory trip to Barabar Caves known to be one of the oldest surviving rock-cut caves in India which have Ashokan inscriptions and are said to be from the Mauryan Period. The trip was initiated by Christine Vial Kayser Visiting Assistant Professor, School of Historical Studies at Nalanda University.
Here is a brief account of the trip by Dr. Christine Vial Kayser:
I was looking for the location of the "Marabar" caves of E. M. Foster's A Passage to India, imagining that they were somewhere in Central India only to find that they were inspired by the Barabar caves, located just 50 km from Rajgir. So with the students of my Art History class and four colleagues who shared my curiosity for a place that was both of archaeological and literary interest, we set out to the caves early on a Sunday morning. We had learned that there was a guide who could arrange the visit and a guest house on the site where we could get lunch.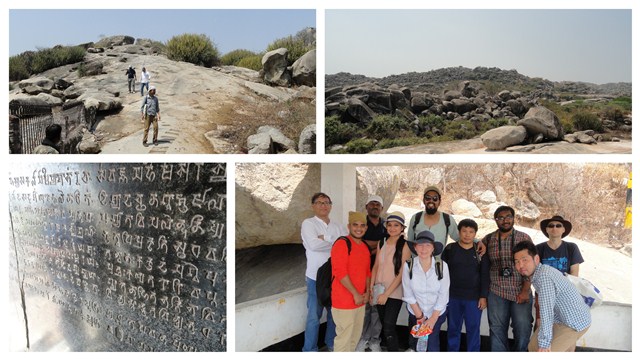 We reached the caves after a short walk up a paved path, which was much better than the slippery and barren original "Ashoka Path", which we used on the way back. The caves are extremely austere excavations of a granitic rock. The entrance, a simple rectangular shape bearing some Brahmi, or Mauryan scripts, leads to a single dark room of an oval shape, in which hardly any light enters, its surface polished to the point of looking like steel and acting as a feeble mirror.
Besides their confusing visual aspect, and the haunting, heavy presence of the rock, their wonder lies in their acoustic. Click here for acoustics. The sound reverberates almost to the point of being felt as a vibration, and returns any words, especially low key, with an unfathomable "Om… ". In the novel A Passage to India, the echo's obtuse and stern repetition is the source of the malaise of the old Mrs Moore who believes it says "Everything exists, nothing has value". Our experience was certainly less dramatic but still very meaningful and made, I believe, a profound impression on all of us.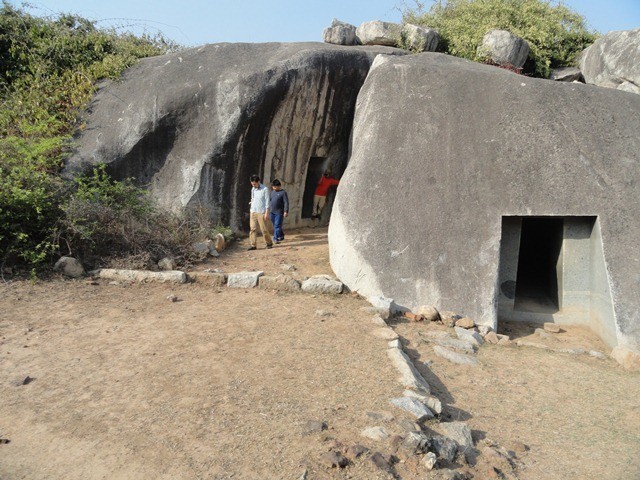 Image Credits: Arun Kumar Akella