India's Independence Day and South Korea's Liberation Day Celebrated at Nalanda University on August 15, 2016

August 16, 2016
Nalanda University celebrates national days of all countries where its students come from. On August 15 it celebrated India's Independence Day and South Korea's Liberation Day.  
 The day started at 8.30 am with National Liberation Day celebrations of South Korea, when Min Kyung Sun, a Korean Student from the School of Buddhist Studies raised the Korean flag at Tathagat Residential Hall and shared details on the relevance of the day.
Later at 10 am the University Community got together at the Interim Campus. When students from 13 different countries including India started singing the Indian national anthem with the Indian national flag waving in full glory, what struck everyone was the oneness of humanity and the commitment of the University to follow the Nalanda way of "humankind living in harmony with each other".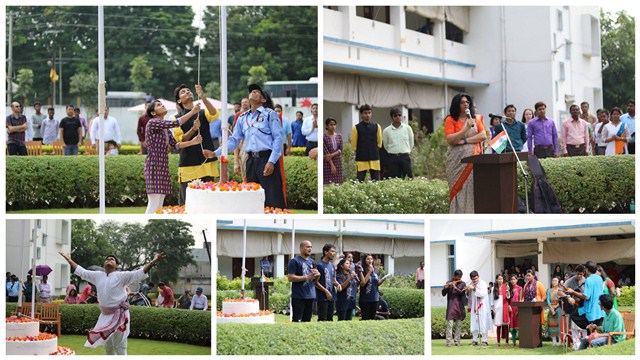 Following the University's tradition of giving the opportunity of hoisting the Indian National Flag to two students of the new batch, Aniket Prashant and Tatsama Motilal hoisted the Indian National Flag in the presence of Vice Chancellor Dr. Gopa Sabharwal. This was followed by a short speech by the Vice Chancellor who congratulated everyone on the occasion.  
The music society of the University Dhvani gave a fusion musical performance and the dramatics society performed on poems of Tagore and Baba Nagarjuna.