Nalanda Student at the 3rd Asia Ministerial Conference on Tiger Conservation
April 20, 2016
Saket Agasti, a student of the School of Ecology and Environment Studies, participated at The 3rd Asia Ministerial Conference on Tiger Conservation held at Vigyan Bhavan in New Delhi from April 12 to 14, 2016 as delegate and contributed in suggesting a proposal for zero-poaching to Tiger Range Countries.
Chancellor George Yeo, who is a council member of Global Tiger Initiative, was also present at the inaugural session of the conference.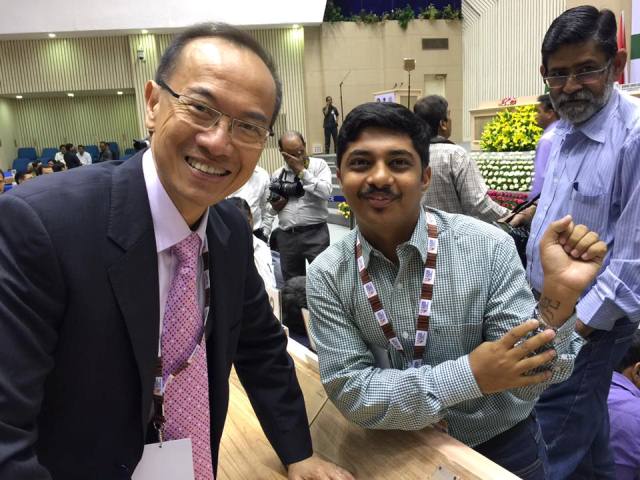 This conference was held to "review and endorse the national and global priorities relating to the Global Tiger Recovery Programme (GTRP) for the next implementation phase." Held under the aegis of the Ministry of Environment, Forests and Climate Change in India the conference was attended by ministers and government officials from all 13 tiger range countries (TRCs): Bangladesh, Bhutan, Cambodia, China, India, Indonesia, Lao PDR, Malaysia, Myanmar, Nepal, Russia, Thailand, and Vietnam.
The conference was inaugurated by Prime Minister Narendra Modi. Speaking on the occasion he said, "For the Tiger Range Countries, a viable tiger population undoubtedly symbolises a mitigation strategy for climate change. This will create a huge carbon sink in the form of tiger bearing forests."
According to the conference website, "The status of wild tiger across Tiger Range Countries (TRCs) continues to remain endangered. Though there have been some gains on this front during the last few years as seen in the population build up in some TRCs , the global scenario is a cause for major concern. Tigers have become locally extinct in some TRCs and the status of prey as well as the habitat has declined in many."