Nalanda student leads Rajgir Heritage Walk
June 11, 2016
Nalanda University student, Shaashi Ahlawat, who completed her two years of Masters from the School of Historical Studies (SHS) last month, led the Rajgir Heritage Walk conducted on June 5. Rajgir Heritage Walk was launched during Rajgir Mahotsav in November last year with the joint effort of NU and Bihar Heritage Development Society (BHDS) under Art, Culture and Youth Department, Government of Bihar. At Nalanda University this initiative has been led by Dr. Abhishek Amar, Visiting Associate Professor at SHS. Ms. Ahlawat was trained by Dr. Amar and is currently working as Research Assistant for K.P. Jayaswal Research Institute, Patna Museum, Patna.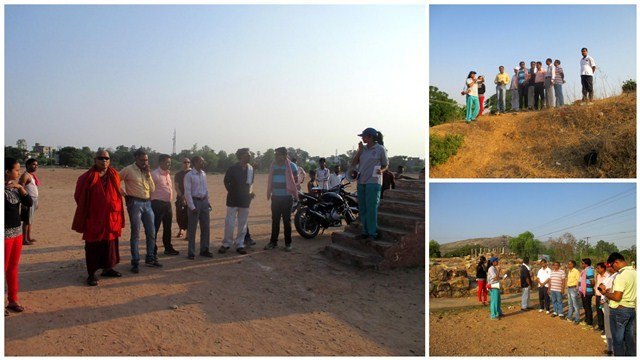 The theme of the walk held on June 5, was "Rajgir – Ancient to Modern" and covered the following sites: Ajatshatru Quila Maidan, Fortification wall of new Rajgriha, Venuvan, Pandu Pokhar and Veerayatan. Around 15 people joined in for the walk including locals and two monks from the Chinese Buddhist Temple, Nalanda. The main objective of the walk was to generate awareness about the multi-layered cultural and religious history of Rajgir among people of Rajgir and tourists. The walk also emphasised on the multi- religious importance of Rajgir and the dialogue between the past and the present.
At the end of the walk, a quiz on local history was organized and the winners were awarded with T-shirts from BHDS. 
These walks are held on the first Sunday of every month and led by historians and archaeologists. BHDS also organizes heritage walks at three other places – Patna, Bodhgaya and Vaishali. The walks are to be led by the historians and archaeologists. There is no participation fees for these walks, however a nominal charge of INR 50 may be charged if the walk has to be organized on any other Sunday through special request made by a group of ten or more persons.