Nalanda Student Youngest Presenter at Jamia Conference
March 1, 2016
Oindrila Ghosh, a student of the School of Ecology and Environment Studies, presented her paper titled "Ecological, Demographic and Economic Impacts of Agent Orange in Vietnam" at the International Conference on "Energy, Economy and Sustainable Development: Opportunities and Challenges", organised by the Department of Economics, Jamia Milia Islamia University, New Delhi, on 16-17 February, 2016.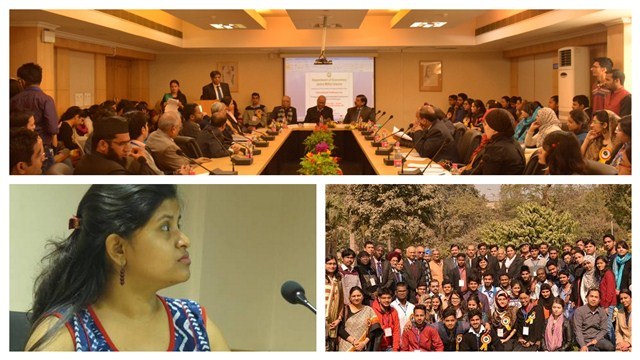 The paper discussed the major impacts of the aerial spraying of herbicide Agent Orange, containing the toxic tetracholorodibenzodioxin (TCDD), during the period of Vietnam War, which is considered to be one of the most controversial, divisive and longest wars fought in the history of World War II. The impact assessment has been done keeping the demographic, ecological and economic aspects in mind giving the study an interdisciplinary approach of studying the impacts of chemical warfare at large.
The Conference had speakers from countries all over the world which are facing energy crisis to discuss and contribute to the proceedings of the conference. Ben Hamida and Hayfa Elkadhi from Tunisia, Prof. Naushad Ali from Delhi, Dr. Praerna Sharma from MCMDAV College,Chandigarh, Dr. Amarjeet Sethi from Guru Nanak Dev University, Amritsar, Prof. Henrique Schneider from Swiss Federation of SME, Switzerland, Abhinav Srivastava and Divya Pahuja from TERI University, Irfan Ali from IIT Bombay, Urvashi Sirohi and Maria Khan from JNU and Dr. Somesh K. Mathur from IIT Kanpur were some of the prominent speakers who spoke about the challenges and opportunities of Sustainable Development in the context of Energy.
Oindrila received appreciation for being the youngest of all presenters in the conference and her presentation skills including the talk were appreciated. The abstract for her paper has already been published in the Conference Souvenir and the paper is under process for review to be published in the form of a book chapter in the Conference Proceedings.