Nalanda Students at two-day workshop organised by the Electro-chemical Society of India at IISc, Bengaluru
July 3, 2016
Nalanda University students, Swarnika Sharma and Deekshith Nevil Pinto (School of Ecology & Environment Studies- Class of 2017), participated in the two-day workshop on Wealth from Waste & Pollution Awareness Online Monitoring, E-Waste Management & RoHS organised by Electro-chemical Society of India (ECSI) at the Indian Institute of Science (IISc), Bengaluru on June 16 and 17, 2016.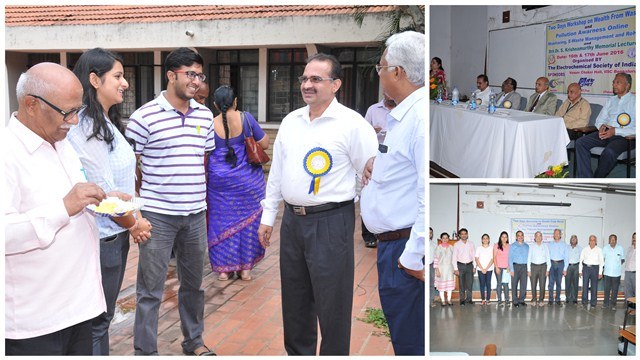 The workshop also featured the 8th Dr S. Krishnamurthy Memorial Lecture series organized by ECSI. The participants included eminent scholars and representatives from various organizations & institutes dedicated for the Waste Management & Resource Recovery.
The workshop and the lecture series was aimed at training and awareness building towards scientific waste management. It was also aimed at building a dialogue between the scientists, industry leaders, entrepreneurs and research scholars on the issue of waste management and pollution control. The discussions were targeted towards developing sustainable techniques for generation of wealth from waste and resource recovery.  Some critical issues discussed included Protection of Natural Resources, E-waste & its hazards, Dissemination of Hazardous Substances in the Environment, Policy making, etc.
Distinguished scholars of both academic and industrial background namely Dr P. Parthasarthy (MD, E-Parisara), Dr M.A.R. Iyengar (former BARC Scientist, Bengaluru), Dr Keshav Bulbule (Scientist, E- Parisara), Dr J.R. Mudakavi (Dept. of Chem. Eng., IISC), Dr Rajeev Deekshit (Proprietor & Director, Pyro Technologies), Dr N.R. Munirathnam (Director General, C-MET), Dr R.P. Dambal (CEO, Pollution Tech. AIDS), Dr H.P. Rudresh (Entrepreneur), Prof. E.S. Dwaraka Das (President, ECSI) presented their views and shared their research works. Deekshith and Swarnika also participated actively during the open discussion sessions with the scientists & researchers on different aspects of Environment Protection & Management.
Image Credits: Deekshith Nevil Pinto