National Rural Livelihood Mission's Manager interacts with students
February 23, 2016
On February 14, 2016, Mr. Debaraj Behera visited Tathagat Residential Hall to interact with the students of Nalanda University. Mr. Behera is a National Mission Manager of Livelihoods at National Rural Livelihoods Mission (NRLM). The initiative for this interaction was taken by one of the students from Batch 2017, Ankit Singh Chauhan.
Mr. Debraj Behara had an hour long session with the students in which he discussed about various internships and placement opportunities one can find with NRLM. Mr. Behra has an accomplished career in designing and implementation of large scale programme in Sustainable Agriculture Practices, Climate Smart Agriculture and Productivity Enhancement Program (System of Crop Intensification in Paddy, Wheat, Pulses, Oilseeds & Vegetable). He has also worked for the Community Managed Extension Mechanism, Innovation in Agriculture and Marketing of smallholder agriculture. Besides, he has been known for his roles in Mahila Kisan Sashaktikaran Pariyojana (MKSP) and professionalization of the Development Sector.
Such interactive sessions are an initiative of the NU Career Resource Cell to help students establish connections with institutions that they may want to consider joining for their summer-internship projects.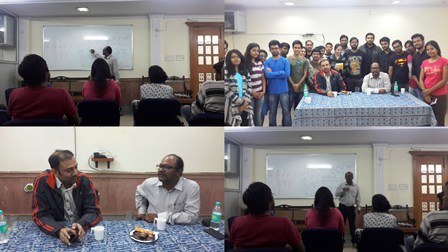 Image credits: Kundan Sagar