Rajgir Heritage Walk of 2016 takes off
January 13, 2016
On January 10, Nalanda University (NU) and Bihar Heritage Development Society (BHDS) organised the first heritage walk of the year 2016 in Rajgir. The theme of the walk was "Rajgir – Ancient to Modern". The team included members from the University, BHDS and locals from Rajgir.
Rajgir Heritage Walk is a joint effort of Nalanda University and Bihar Heritage Development Society under Bihar government's Art, Culture & Youth Department. The main objective of this collaboration is to generate awareness about the multi-layered cultural and religious history of Rajgir among people of Rajgir and tourists. The Heritage Walk took off last year in November during the Rajgir Mahotsav.
Like the previous walks organised last year, this walk also emphasised on the multi- religious importance of Rajgir and the dialogue between the past and the present. The walk began at Quila Maidan, Rajgir at 8.30 am and covered the fortification wall remains of Rajgir, Ajatshatru Stupa, and Venuvan. While exploring the mound areas around Quila maidan and Venuvan, some pottery was collected by the team. A fair range of brick-structure remains were also spotted.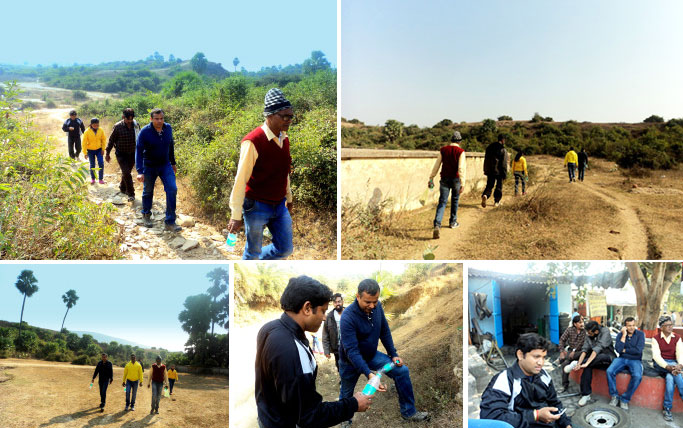 This was the first time that the walk also had a nominal charge of INR 50 for registration to cover the cost of refreshments provided during the walk. Invitations were sent out to public through newspaper advertisements and online media. Posters were distributed to some popular hotels frequented by tourists in Rajgir. The organising team plan to hold such walks on a regular basis during the tourist season.