Dr. Sayan Bhattacharya Delivers Lecture at International Conference on Climate Change at University of Oxford
February 28, 2017
Dr. Sayan Bhattacharya, Assistant Professor in the School of Ecology and Environment Studies, Nalanda University delivered a lecture at University of Oxford, UK during the International Conference on Climate Change and Development in February, 2017.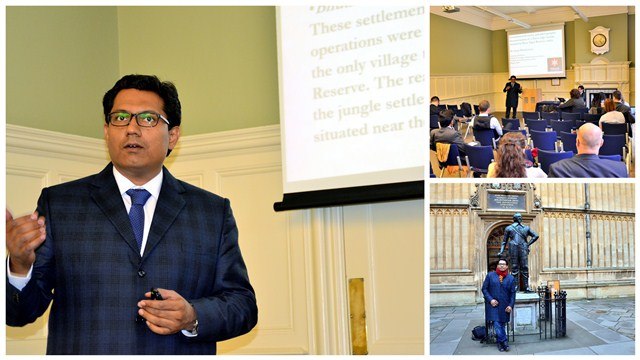 The aim of the conference was to provide a platform for stimulating dialogue between social and scientific researchers and practitioners who engage with the research works on climate change and development scenarios. Researchers from 26 counties (Netherlands, France, Italy, Columbia, Russia, Czech Republic, Israel etc.) participated in the conference. 
Dr. Bhattacharya's lecture was based on his recent research work in the Buxa Tiger Reserve situated in the Eastern Himalayas foothills. The study focuses on an interdisciplinary understanding on the physical and cultural environment of the forest and mountain areas. His work integrates the perspectives of human and social ecology, ecosystem services and sustainable development. His research incorporates photographic documentation with academic findings with a critical conclusion based on experimental and photographic data. The conference ended with panel discussions with the speakers where possibilities of potential collaborations in future were also discussed.