Dr Sayan Bhattacharya delivers a lecture at Asian Researchers' Symposium on sustainable development at University of Indonesia
April 28, 2016
Dr Sayan Bhattacharya, Assistant Professor, School of Ecology and Environment Studies, Nalanda University delivered a lecture at the recently concluded Asian Researchers' Symposium 2016 organised by Universitas Indonesia (University of Indonesia).
The Asian Researchers Symposium was held from 24th to 27th April, 2016 to initiate international joint research collaboration for shaping sustainable world development. Researchers from many prominent universities from Japan, Taiwan, Vietnam, Indonesia, Malaysia, India, Bangladesh, Pakistan and Philippines were invited to present papers and exchange their research findings for collaborative research.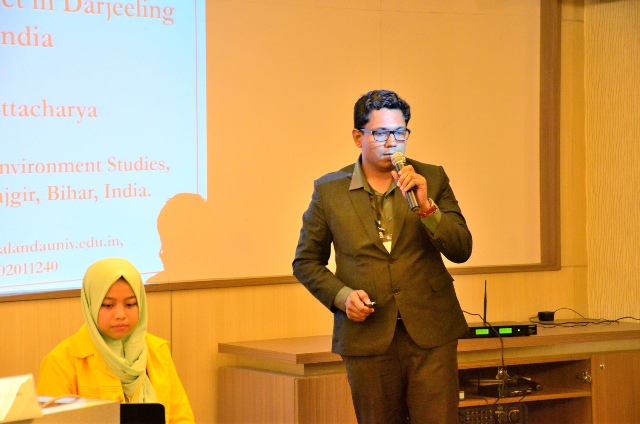 On this occasion, an abstract volume was also published and a few selected full papers were published in a book with ISBN number. Dr. Bhattacharya is the only Indian whose full research paper was selected and published in the book with ISBN number. 
After the conference, Dr. Bhattacharya also visited the School of Natural Sciences (Chemistry, Biology and Geography Units), Department of Climate Change and Disaster Management Units in University of Indonesia. He interacted with the professors of the schools on different research perspectives which include ecosystem-based adaptations, climate change status in Indonesia, forestry disasters in the Indonesian Islands and biodiversity conservation issues in Sumatra.