SEES Distinguished Lecture: Disaster vs. Sustainable Development by Bio-Engineering Measures
April 14, 2017
Professor Chandan Ghosh, Professor and Head, Geo-Hazard Risk Management Division, National Institute of Disaster Management, New Delhi delivered a Distinguished Lecture titled, "Disaster vs. Sustainable Development by Bio-Engineering Measures" on April 13, 2017.
This lecture dealt with the disaster management scenario of the country from the current perspectives of natural and man-made disaster and presented examples and case studies in sustainable development by Bio-Engineering measures: Harvest Rainwater, Protect Infrastructure, Protect Coastlines, Protect Waterways, Protect Flood-prone Land, Protect Farmland, Sequester Carbon, Facilitate Reforestation and Plantation Establishment, Treat Liquid Wastes etc. The lecture also focused on the use of native grasses like Chrysopogon zizanioides to deal with the problem of soil erosion.
Professor Ghosh talked about how in recent times the problems of deforestation, increased flooding by major rivers, and reduced dry-season water flows for irrigation and urban and industrial supplies have got a lot of attention. He however lamented the fact that the massive problem of soil erosion and, more specifically, the need to reduce soil and water losses caused by excessive rainfall runoff has not received enough attention.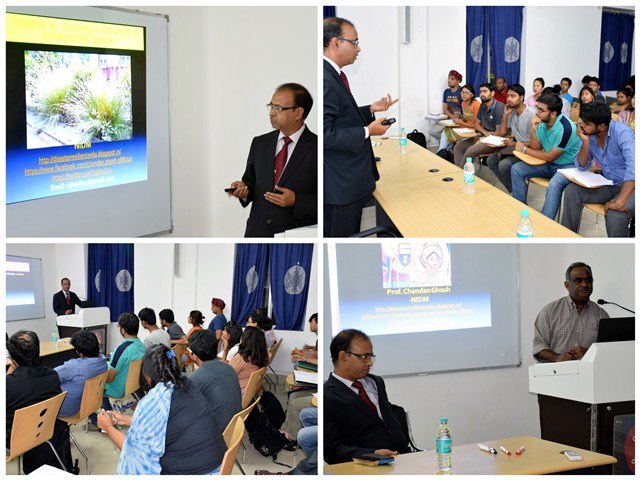 Bio-Sketch of Professor Chandan Ghosh

Prof. Ghosh obtained his B.Tech. degree in Civil Engineering from Bengal Engineering College (IIEST), M.Tech. from Jadavpur University, PhD from IIT Kanpur (1992) and another PhD (2004) from Ibaraki University, Japan. He joined National Institute of Disaster Management, Delhi in 2006. Prior to this, he had worked at Institute of Technology, Banaras Hindu University and at Indian Meteorological Department. His area of expertise are reinforced earth, application of geo-synthetics for landslides, slope stability & erosion control, geotechnical & geophysical exploration, disaster resistant housing technologies, retrofitting and earthquake risk mitigation and management. Since July 2006 he is serving as Prof. & Head, Geohazards Division, NIDM, Ministry of Home Affairs, Govt. of India, New Delhi. He has phenomenal field exposure and professional credence in the disaster documentation such as Leh cloud burst-2010, Sikkim Earthquake-2011, Lalita Park building collapse-2011, Uttarakhand Flood-2013, Seismic Vulnerability assessment by RVS across the country. 
In recognition of his seminal contribution, Dr Ghosh received Prof. Leonard prize for the best doctoral thesis in 1993, CIDC Vishwakarma Awards-2013, IGS-Shri H.C. Verma Golden Jubilee Award-2013.