Distinguished Lecture: A Teacher of Thousand Years:
L
earn to Innovate, Empathise and be one with Nature
November 14, 2016
Professor Anil. K. Gupta, Professor, Indian Institute of Management, Ahmedabad delivered a Distinguished Lecture titled, "A Teacher of Thousand Years: Learn to Innovate, Empathise and be one with Nature" on November 15, 2016.
This lecture discussed teaching of frugality two thousand years ago when there was no shortage of water or other natural resources. The great teacher/s then anticipated human frailty of imagination and could exactly see what the world was getting into. According to Professor Gupta, frugal and grassroots innovations are manifestations of samskara of samvedana and mitvyayita still evident in our society. Professor Gupta talked about the importance of grass-root innovations, emphasising on the fact that minds at margins are not the marginal minds. He also shed light on the efforts of Honey Bee Network to recognise, respect and reward grass root innovators, traditional knowledge holders, creative children, innovative teachers and common property resource institutions etc.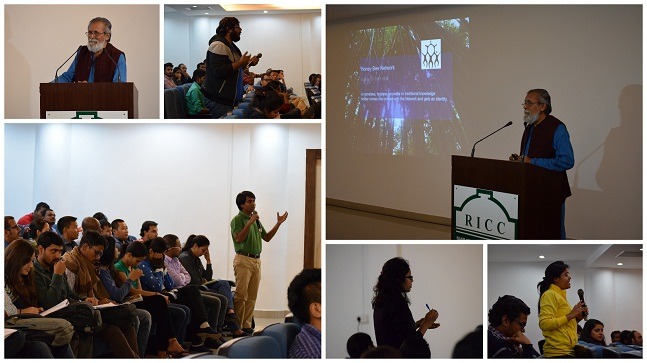 Bio-Sketch of Professor Anil K. Gupta

Professor Anil K. Gupta is an internationally acclaimed scholar in the areas of grassroots innovations, sustainable agriculture, ethical issues in conservation and prosperity of biodiversity and support to social innovation. He is a Professor at Indian Institute of Management, Ahmedabad (1981-2017). Professor Gupta was awarded one of the highest civilian awards of the country 'Padma Shri' in 2004.
He is the founder of Honey Bee Network (a Network promoting sustainable knowledge ecosystem, having presence in more than 75 countries with an assemblage of innovators, farmers, scholars, academicians, policy makers, entrepreneurs and non-governmental organizations), SRISTI (Society for Research and Initiative for Sustainable Technologies and Institutions), GIAN (Grassroots Innovation Augmentation Network) and NIF (National Innovation Foundation).

Professor Gupta believes that knowledge-rich economically poor people and youth including children are not sunk of sermons but source of sustainable inclusive ideas, innovations and institutional insights. He plans to work during next forty years for unleashing creative, compassionate and collaborative potential of communities and may be even corporations and large organisations worldwide.