SEES Special Lecture: Plants, Society & Law

February 27, 2017
Professor Kanchi N. Gandhi, Senior Nomenclatural Registrar, Harvard University, MA, USA delivered a lecture titled "Plants, Society & Law" on February 24, 2017.
Professor Gandhi explained that plant species, unless adapted to particular habitats, are not confined to geographical borders of a country. However, laws of a country may prevent the introduction of invasive alien species, regulate the shipment of nursery and greenhouse plants, and minimize the impacts that invasive species might cause. He talked about why knowledge of species concept and of plant morphology, physiology, and reproductive strategy are essential to understand the ecology and environment of plants and to consider the regulation of plants for commercial use. 
The lecture also covered basic the legal and economic issues pertaining to coconut, (Cocos nucifera) "congress weed" (Parthenium hysterophorus), dhatura (Datura), halophytes (Salicornia), orange-jasmine (Murraya paniculata), opium (Papaver somniferum); and tea (Camellia sinensis). 
Professor Kanchi also talked about how species-based patents affected when the names of the relevant species change and shared insights from U.S. court cases on marijuana (Cannabis sativa) and tomato (Solanum lycopersicum).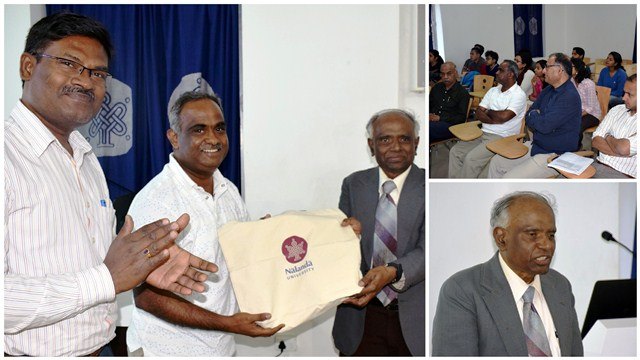 Bio-Sketch of Professor Kanchi N. Gandhi

Professor Gandhi is Senior Nomenclatural Registrar at Harvard University Herbaria, USA. He has expertise in the areas of plant nomenclature, plant morphology, and plant taxonomy. Professor Gandhi has rich experience in teaching, curation of vascular plant specimens and field study in the tropical, subtropical and temperate regions. He has substantial knowledge on the floras of southern India and southern United States. Professor Gandhi has been involved in several projects in analyzing plant nomenclature for the international community; he is currently working on International Plant Name Index, the HUH lookup tables, and Flora of North America projects. He serves as a Nomenclature Editor for Taxon, Rhodora, and Flora of North America, as a Collaborator for the Index Nominum Genericorum – Plantarum, a member of the Nomenclature Committee for Vascular Plants-IAPT and of the Code By Laws Committee-IAPT, and also as the Manager and Editor for the International Plant Name Index at Harvard. Professor Gandhi is also the recipient of "Distinguished Service Award" from the American Society of Plant Taxonomy in 2010.