SHS Special Lecture: With and Against the Sultan. Influences from Islamic Courts on the Vijayanagara Successor States, 17th-18th Centuries

January 9, 2017
Lennart Bes, Lecturer, Institute for History at Leiden University delivered a lecture titled "With and Against the Sultan. Influences from Islamic Courts on the Vijayanagara Successor States, 17th-18th Centuries" on January 6, 2017 in the SHS Special Lecture series.
In this lecture Mr. Bes, discussed how from the fourteenth century CE onward, south Indian states ruled by Hindu kings were strongly influenced by politico-cultural conventions from Muslim-governed areas. This development, Mr. Bes explained, was for instance manifest in the titles and dress of the rulers of the Vijayanagara Empire. As has been argued, they bore the title of Sultan and on public occasions they appeared in garments fashioned on Persian and Arab clothing. Both adaptations exemplified efforts to connect to the dominant Indo-Islamic world.

He further elaborated that from Vijayanagara's fragmentation in the sixteenth century, new Hindu-ruled kingdoms arose. We may wonder to what extent those succeeding polities continued practices adopted from Islamic courts. With that question in mind, his lecture discussed royal titles and dress in four Vijayanagara successor states, based both on south Indian texts and works of art, and on records of the Dutch East India Company. It appears that these kings used other titles than their predecessors did and could wear several clothing styles at audiences. Influences now came from multiple backgrounds, comprising various Islamic as well as non-Islamic elements. Further, not all successor states followed the same conventions on titles and dress since earlier notions were modified in different ways, depending on varying political developments.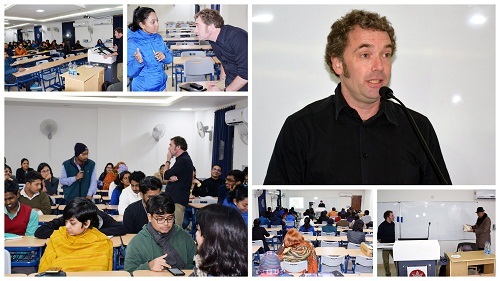 Bio-Sketch of Mr. Lennart Bes

Mr. Lennart Bes is an Indologist studying political culture at Indic courts. He recently submitted his PhD dissertation at the Radboud University Nijmegen (Netherlands), which concerns dynastic politics in the Vijayanagara successor states. In the past, he was employed at the Netherlands National Archives, where he worked on the records of the Dutch East India Company (VOC). Currently, he is teaching history of India, Southeast Asia, and the VOC at Leiden University. He has published on early-modern south Indian kingdoms, their contacts with the VOC, and Dutch records concerning South Asia.