Distinguished Lecture: Nathdwara's Artistic Legacy

November 5, 2016
Dr. Madhuvanti Ghose, Alsdorf Associate curator of Indian, Southeast Asian, Himalayan and Islamic Art at The Art Institute of Chicago delivered a Distinguished Lecture titled "Nathdwara's Artistic Legacy" on November 3rd, 2016. 
The lecture explored the unbroken legacy of the traditional artists of the small temple town of Nathdwara near Udaipur, Rajasthan and the way in which they are negotiating todays India. Dr. Ghose talked about how these artists have maintained a tradition of painting on wasli (handmade paper), cloth and walls, within their family lineages going back to 18th and 19th centuries in many cases. She also talked about how some of the most important artists have emerged from this temple town, their influence on the development of the popular artistic traditions across India, and the importance of this artistic legacy which is increasingly under threat today.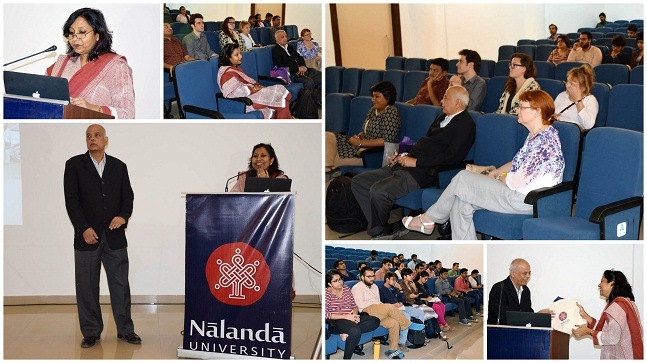 Bio-Sketch of Dr. Madhuvanti Ghose

Dr. Madhuvanti Ghose is the first Alsdorf Associate Curator of Indian, Southeast Asian, Himalayan, and Islamic Art at the Art Institute of Chicago. Since joining the Art Institute in 2007, Dr. Ghose has launched the Alsdorf Galleries of Indian, Southeast Asian, Himalayan, and Islamic Art (2008) and curated the site specific Public Notice 3 (2010–11) by Jitish Kallat, which was the first show by a contemporary Indian artist to be held at the Art Institute. She has curated a series of Indian art exhibitions for the Art Institute including The Last Harvest: The Art of Rabindranath Tagore (2012), Zarina: Paper Like Skin (2013), Nilima Sheikh: Each Night Put Kashmir in Your Dreams (2014), and Gates of the Lord: The Tradition of Krishna Paintings (September 13, 2015 through January 3, 2016). Her latest exhibition, Vanishing Beauty: Asian Jewelry and Ritual Objects from the Barbara and David Kipper Collection just closed in August 2016.
Dr. Ghose led the Vivekananda Memorial Program for Museum Excellence (2012–16), a four-year project funded by a grant from the Government of India that was designed to foster professional exchanges between the Art Institute and various museums in India. After completing her doctoral dissertation at the University of London, Dr. Ghose was a Research Fellow at the Department of Eastern Art, Ashmolean Museum, Oxford University. She was previously Lecturer in South Asian Art and Archaeology at the School of Oriental and African Studies (SOAS), University of London, UK. In 2013 she was honoured by the Chicago Foundation for Women with a Breaking Barriers Award and in 2014, she was presented with the Outstanding Community Service Award by the Vishwa Gujarati Samaj, USA. She serves on the board of trustees of the American Association of Art Museum Curators.