SHS Distinguished Lecture: Trends in South Asian Studies in the United States and Abroad

March 30, 2017
Professor Wendy Singer, Roy T. Wortman Professor of History and South Asian Studies, Kenyon College, USA delivered a Distinguished Lecture titled, "Trends in South Asian Studies in the United States and Abroad" on March 29, 2017.
In this lecture Professor Singer argued that South Asian Studies in the US is uniquely India- based with constant refreshing from South Asian scholars in the diaspora who travel back and forth. She explained that in 1956 India signed an agreement with the United States based on a Law—PL480— that provided wheat to India in exchange for payment in Rupees. That money enriched (in both senses of the word) US universities and libraries because they spent it on books, scholarships, and research opportunities in India. A new generation of students began to study Hindi and other Indian languages. The great libraries in Washington and Chicago built collections of books and manuscripts. And for the next few decades serious academics travelled to India to live and work and learn in India's archives, libraries, and highly respected universities. This was a remarkable transformation of American academics. She also talked about how this origin of South Asian Studies in the United States created a community of scholars that looked to their Indian professors, mentors, and, eventually, colleagues as the centre of Indian Studies.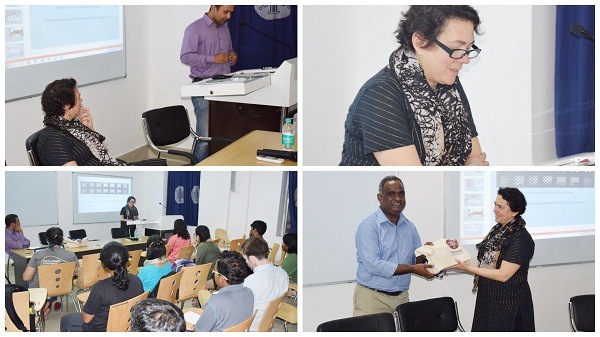 Bio-Sketch of Professor Wendy Singer

Wendy Singer is the Roy T. Wortman Professor of History at Kenyon College in the US. She is a historian of India, whose research focuses on the culture and politics of the post-independence period. Her most recent book Independent India, published by Routledge, is a thematic history that includes documents and images of the period from 1947 to 2000. Borrowing from the study of literature and anthropology, she is especially interested in the challenges of doing history of very recent periods. Her current project is a study of the changing idea and language about "Reservations" in India. Having spent 30 years living and studying in India, she is a member of a number of associations of scholars of South Asia. Through a recent panel at the Association for Asian Studies in the US, she has begun to organise an institutional study of how American scholars—particularly women scholars—have engaged in South Asian Studies. She has lectured in India, the UK, Europe, and the United States about South Asian History, Indian Democracy, and the state of the historical discipline.