Entre Nous: Sayan Bhattacharya on arsenic contamination in Bengal Delta
February 22, 2016
Dr. Sayan Bhattacharya, Assistant Professor, School of Ecology and Environment Studies, Nalanda University, gave an in-house lecture on March 21, 2016 titled: "Arsenic contamination in Bengal Delta with special reference to the studies on its bioaccumulation and remediation through adsorption." This talk was based on Dr. Bhattacharya's research on arsenic contamination in Kalinarayanpur (23°14' N, 88°59' E), Nadia, West Bengal, India.
As known now, Arsenic (As) is of great environmental concern because of its highly toxic nature and colossal abundance. It is also established now that the Bengal basin in India is the most acutely arsenic affected geological province in the world.
Dr. Bhattacharya, demonstrated the project-report and data from the research in which pre and post monsoonal water samples were collected from the tube well and were studied along with the groundwater parameters. According to data analysis, the zone was found to be highly contaminated with arsenic. The research showed a variation in arsenic levels with respect to the depth at which the sample was taken. Accordingly, Dr. Bhattacharya demonstrated that there was a constant concentration of arsenic along the gradient of increasing depth. He also shared the data pattern of arsenic bioaccumulation in the rice and jute plants grown in the area. He discussed different parameters along which variations were studied as part of his research. Based on these results, Dr. Bhattacharya stressed that the contamination of arsenic in water, soil and the food chain of Bengal Delta needs be addressed more systematically in order to better understand the arsenic exposure from water and food sources and its impact. This can then help in reaching adequate solutions tailored for the conditions on ground. The lecture ended in a hopeful future for the issue and an hour long debate-discussion from the audience.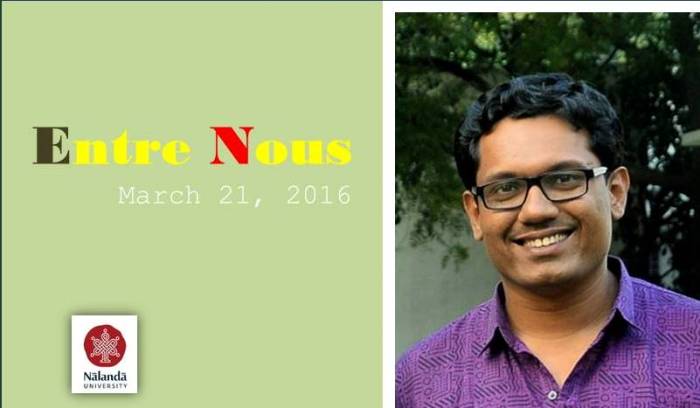 Entre Nous ("Between Us") is a forum for critical but friendly conversations during which members of the University community (faculty, students, and other interested members) present work-in-progress related to the study of culture and nature broadly conceived. Talks are for approximately 30 minutes followed by discussion.