Field visit to Vaishali and Kolhua: Day one from Six days field trip to Lumbini and other sites
February 14, 2016
The day one began with the ride to the city of Vaishali via Patna. The team reached the mound of early city of Vaishali first. Vaishali was the capital city of the Licchavi, one of the mahajanapadas around the 6th century BCE. By looking at the mound sizes on the site and the portions which have been excavated, one can have no doubt regarding the urban nature of the site. The team collected some pottery samples from the mound area and was fortunate to find a broken piece of terracotta figurine from one of the sites.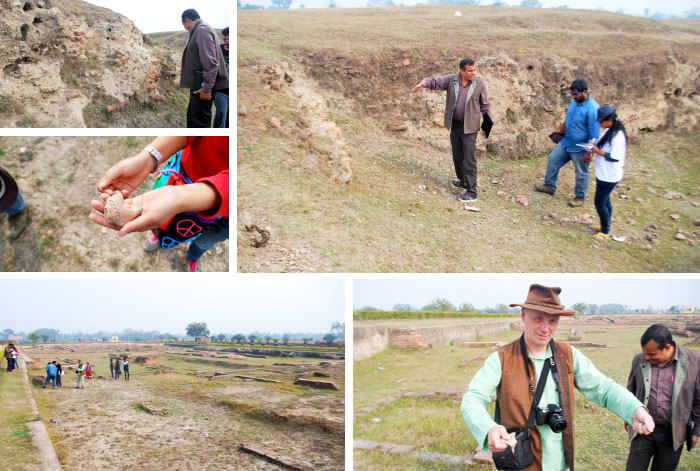 The next stop was the Buddha relic stupa at Vaishali which is claimed to be one of the early eight stupa to house the Buddha relics right after his death. The identification of site was first done by colonial archaeologist Alexander Cunningham based on textual accounts. The excavated portion also suggests that the stupa has seen at least two phases of reconstruction and belongs to much early period. However, there is no evidence to prove that it is original stupa that contained Buddha relics. The team studied the layers of reconstruction at the site. Later, the site museum was visited which houses antiquities from different excavated sites in Vaishali.

The final site for the day was excavated remains at Kolhua. The site is famous for its big size stupa, Asokan pillar, and the remains of Kutagarshala and a Swastika shaped monastery. It was a good exercise for students to establish connection across these different antiquarian remains within the perimeter of one site. Another important task was to make sense of these remains as they are now and as they would have been before or during the excavation process. The remains, certainly, have lost their original context because of conservation procedures of ASI. In this case, such a task becomes difficult to engage with. Both the professors helped students in brainstorming on such aspects of archaeology. The team reached Kushinagar late in night. The site-visit in Kushinagar was the first thing scheduled for next morning.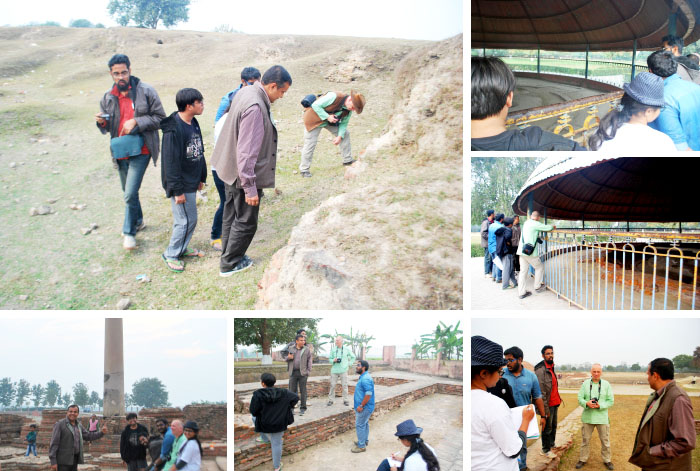 Image and Information credits : Shaashi Ahlawat