Field visit to Dooars: 
U

nderstanding

its

environment in an interdisciplinary context and developing insights on human-wildlife conflicts

April 18, 2016

School of Ecology and Environment Studies (SEES), Nalanda University, organized a field excursion from April 11 to 17, 2016. Four faculty members (B Mohan Kumar, Sayan Bhattacharya, Somnath Bandyopadhyay and Prabhakar Sharma) accompanied 31 students to understand the environment of Dooars in the northern district of Jalpaiguri, West Bengal.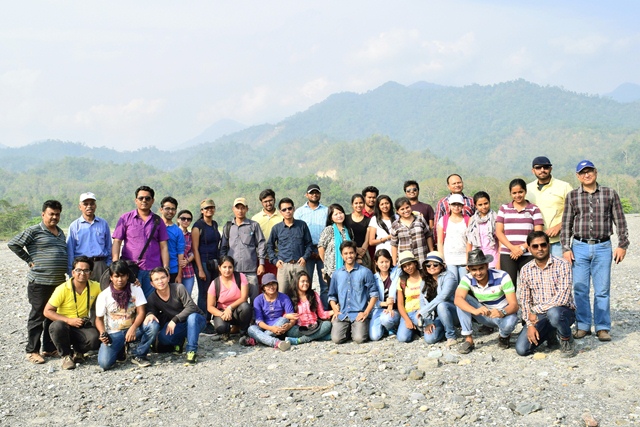 Forests and wildlife conservation areas compete with tea plantations in this landscape nestled between the Himalayan foothills of Bhutan to the north and alluvial plains of Bangladesh to the south. Wildlife, of course, do not restrict themselves to the boundaries of the areas protected by the Government, and often move through human habitations. The human settlements themselves are diverse, with substantial migrant Santhal labourers residing alongside indigenous Rajbanshi tribal communities. Ethnic Bengalis, Nepalese and Bhutanese populations are also substantial in the region.
Quadrats were laid out in the patches of forests on the bank of Murti River to determine floristic diversity, canopy cover and vegetation profiles. Rapid assessment of wildlife habitats in Gorumara National Park and Raimatang (parts of the Buxa Tiger Reserve) were conducted along with a visit to a local Animal Rescue Centre. Samples of water and macrobenthos were also collected.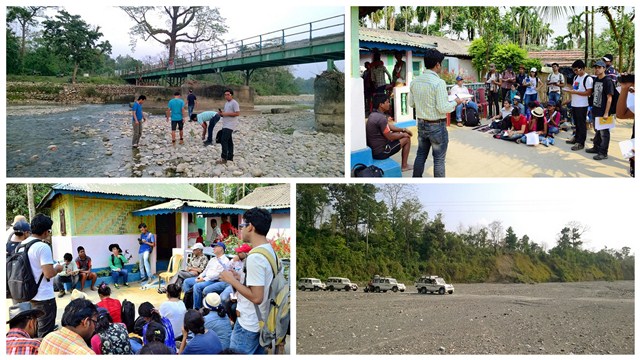 The timber produce from plantations was calculated. Poaching is common and confiscation entails sufficient efforts from the Forest Department. People are allowed to collect non-timber forest produce and this is an interesting area for investigation.
The river beds at Murti and Raimatang was studied focusing on the rock types, boulder extraction from the river beds and socio-economic links of the local inhabitants with the hydrological system.
Santhal labourers settled in Lane 6 by the Batabari Tea Estate are generally unhappy about occasional attacks by wild elephants, loss to lives and properties and government compensations. The Rajbanshi communities, on the other hand, live in scattered villages and believe elephant intrusions to be auspicious.
Culture and livelihood patterns play an important role in determining the local human perspectives on wildlife encounters and resultant conflicts, if any. The visit focused on building an interdisciplinary understanding on the physical environment of Dooars and developing insights on human-wildlife conflicts. Folk dances and tribal rituals underscore their traditional relation with nature and natural resources.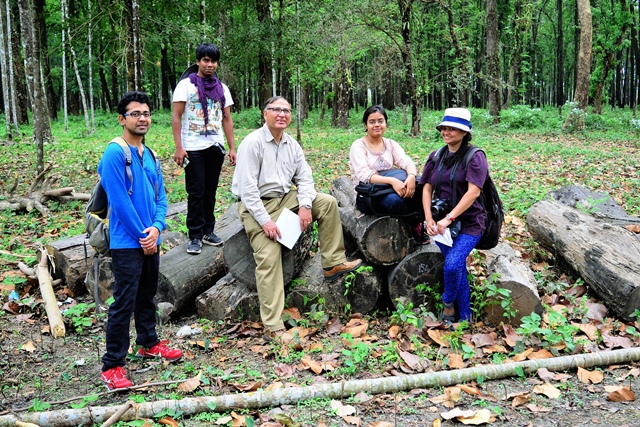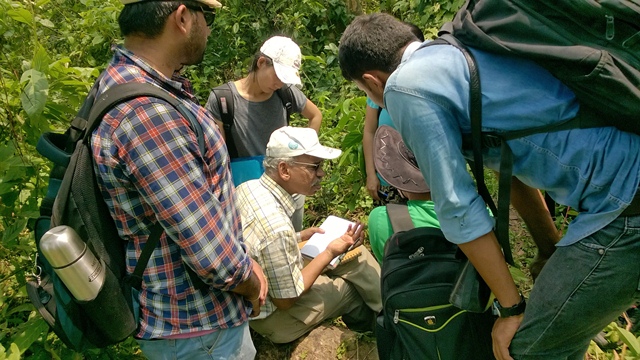 Image credits: Sayan Bhattacharya