SEES Field Trip to Biharsharif: Understanding the effects of Urbanisation
on Urban Agriculture
March 25, 2017
By Praveen Kumar V.S. , School of Ecology and Environment Studies, Class of 2018
On March 3, 2017, students from the School of Ecology and Environment Studies (SEES) enrolled in the elective Asian Cities in a Globalising World, offered by Dr. Aviram Sharma, Assistant Professor SEES, went for a field trip to Biharsharif. 
The purpose of the trip was to understand and analyse how urbanisation is affecting urban agriculture by studying the case of Biharsharif which has been shortlisted to be developed as a smart city by Ministry of Urban Development as a part of its 100 Smart City Mission.
Biharsharif is the administrative headquarter of Nalanda District with a population of 2, 32,071 as per the 2001 census (City Development Plan 2010-2030). In the year 2002 Biharsharif was established as Municipal Council, and in 2007 it was constituted as Municipal Corporation.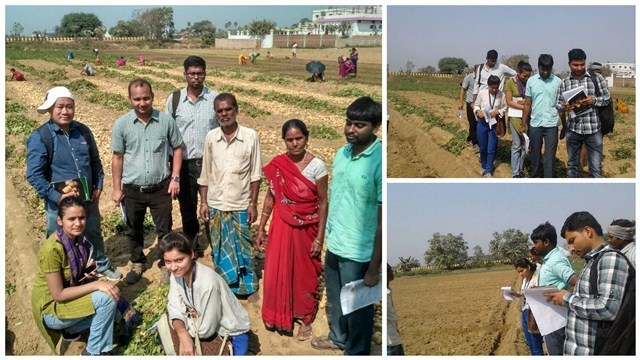 For our field trip we selected two study sites on the periphery of Biharsharif. Our first site was Baburbanna (Ward number 02) and the second site was Sakunath Kala (Ward number 31).

Before going out into the field, we organised ourselves into two groups with three members each for conducting qualitative interviews to understand the perspective of farmers and residents regarding urban agriculture. 

Some of the questions that we asked included: What kinds of crops are being cultivated and what is their cropping pattern? Where is the market for their products? What is the source of water for irrigation and domestic use? How many members do you have in the family and what is their occupation? What were the benefits and issues with change in governance structure from Panchayat to Municipal Corporation and where do you buy their vegetables for their domestic use?

We spent 10 – 20 minutes in conversation with various stakeholders including farmers, daily wagers, vegetable sellers, shopkeepers and students. We approached 20 people out of whom 12 decided to participate in the interviews.

Our conversations revealed that the inclusion of Baburbanna in Municipal Corporation (Urban Classification), on the one hand has helped it get piped water supply, road and street light facilities but on the other hand has also resulted in higher land taxes, increased labor cost and soaring property prices. While the increase in construction activities has resulted in reduction of cultivable land, urbanisation has also provided farmers a market for their agricultural products as well as jobs to the urban poor, especially women and senior citizens who are not trained in any construction work or are not skilled in other tasks except farming. Increase in demand for vegetables has also resulted in a shift in cultivation of cereals to vegetables.