SEES Field Trip to Noorsarai and Harnaut:
Learning about Agroecosystem Management
February 19, 2017
Students of the School of Ecology and Environment Studies enrolled in the course "Introduction to Agroecosystem Management" in the Class of 2018, went for a field trip to College of Horticulture, Bihar Agricultural University (BAU), Noorsarai and Krishi Vigyan Kendra (KVK), Harnaut on February 17, 2017.  
The purpose of this trip, led by Dr. B. Mohan Kumar, Professor, SEES, was to show the students the field and laboratory facilities at BAU and KVK. In particular, the students were shown the experimental/demonstration sites on crop production, crop protection and water and nutrient management of crop plants including horticulture species.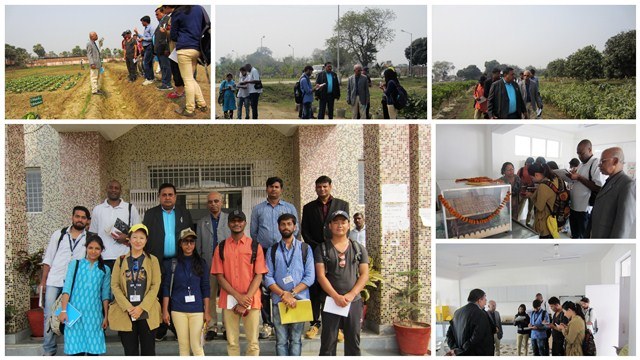 The students interacted with teaching staff of the college, visited the labs and field units and gained insights on the research and development of crop varieties, plant nutrition, bio-fertilizers and green manures. They also interacted with scientists and trainee farmers at KVK, Harnaut. The tour was guided by Dr. P.K. Singh, Principal of the college and Dr. Umesh Babu at KVK Harnaut.
The group visited the following units: 
Nalanda College of Horticulture: Soil Testing Lab, Plant Health Clinic, Plant Breeding and Genetics Laboratory, Tissue Culture and Molecular Biology Lab and Horticulture unit, Scented Rose Block, Medicinal/ Aromatic plants Block, Protected Cultivation Unit, and Mango, Guava and Citrus Orchards. 
Krishi Vigyan Kendra, Harnaut (KVK): Labs, Apiary Unit, and Seed production plots.