SHS Field Trip to
Kako

: Understanding importance of Women Sufis

April 26, 2017

By Theresa Mangalath, School of Historical Studies, Class of 2017

On April 1, 2017, students of the School of Historical Studies (SHS) and the School of Buddhist Studies, Philosophy and Comparative Religions enrolled in the elective Understanding Sufism, offered by Dr. Kashshaf Ghani, Assistant Professor at SHS went for a field trip to Kako, a place in Jehanabad district, which is about 65 kms from Rajgir. The aim was to visit the Dargah of Hazrat Makhdooma Bibi Kamal who is buried there. This Dargah is the only in Bihar, and among the very few in India, dedicated to a female Sufi saint.

This visit was undertaken to facilitate an understanding of the idea of women in Sufism, and at the same time supplement the module on 'Gender and Sufism' in the elective offered. Bibi Kamal happens to be the maternal aunt of Hazrat Makhdum Sharafuddin Maneri who is buried in Biharsharif. She was born in 1174 AD at Kansgar and some of her close family members, who are also reputed Sufis, are buried in Bihar.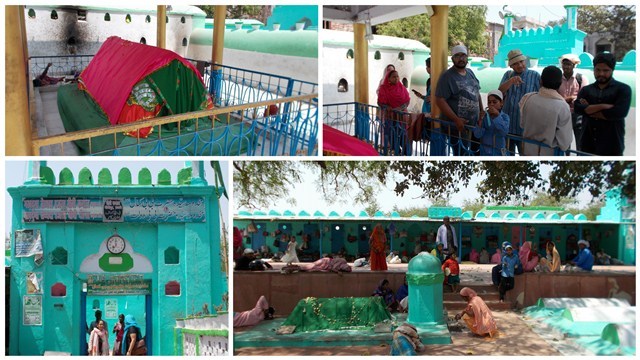 This Dargah is famous for its healing powers and we saw many people who were waiting in the premises to avail this benefit. After crossing the entrance to the Dargah many visitors can be seen scattered across the large courtyard. The well with supposed healing properties can be accessed after coming out of the complex, across the road. There are separate sections for men and women and people take a bath from the well before entering the Dargah to be treated by the caretaker. The caretaker of the Dargah explained that besides being known as one of the Dargahs with the strongest healing powers, what also makes this Dargah complex interesting is the fact that it accommodates people from various religious backgrounds.

We observed few individuals chained to trees. Our conversations with their relatives revealed that the latter believed that these people are possessed by evil spirits and confining them to the physical space of the Dargah would cure them. We also observed some people who were singing songs that sounded very similar to some famous Sufi Ghazals. An inner sanctum where the tomb is located was filled with women who were praying. Some of them were also crying while expressing their grief to the saint. Crossing the tomb complex there is an inner courtyard with a small gate where the Urs - the death anniversary - of Hazrat Makhdooma Bibi Kamal is celebrated.