RAJGIR MAHOTSAV 2018 INAUGURATED, CM VISITS NALANDA UNIVERSITY STALL
November 25, 2018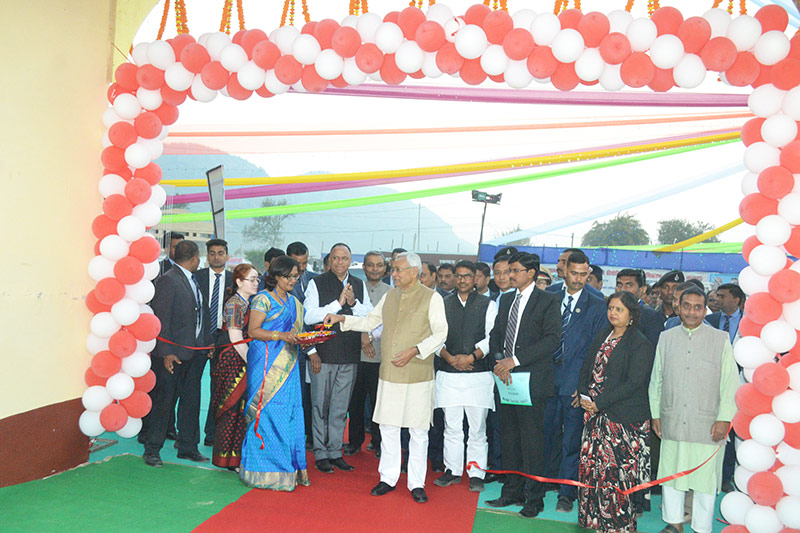 Hon'ble Chief Minister of Bihar, Shri Nitish Kumar ji inaugurated the annual Rajgir Mahotsav at the Hockey grounds in Rajgir, Nalanda on 25 th November 2018. He visited the Nalanda University Stall in the Fair. He evinced keen interest in the presentations prepared by the School of Historical Studies and the School of Ecology & Environment Studies. He appreciated the work being done by the University in the respective fields and suggested to keep up the good job and contribute further to the region the knowledge that is researched in this Institution.
The display had the following themes: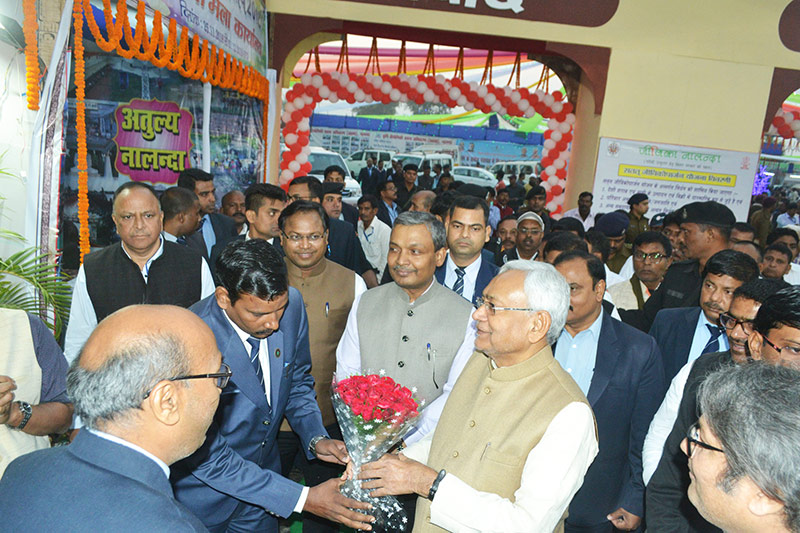 SCHOOL OF HISTORICAL STUDIES
Rajgir Archaeological Survey Project (RASP)
Brief Information about the Project
Rajgir Archaeological Survey Project (hereafter RASP) aims to explore Rajgir using modern scientific technology to better understand its archaeological landscape through the available antiquarian remains. RASP is a collaborative endeavor of the Nalanda University, Rajgir and the Bihar Heritage Development Society, Patna. The objectives of the project are:
 To reconstruct the longue durée history of Rajgir through a critical examination of material and text culture;
To do a regional survey in Rajgir by mapping its archaeological features following a non-intrusive methodology;
In doing so, RASP also aims to record the ecological and cultural features observed on-site so as to present a better informed picture of Rajgir's landscape.
We have divided our survey area into the following units:
Survey Unit A: Cyclopean Wall
Survey Unit B: Rajgir Hills, which include religious shrines, hot water springs, caves, and other structural remains; but excludes Cyclopean wall.
Survey Unit C: The valley nested within the hills.
Survey Unit D: New Rājagṛha, located within fortifications north of the hill
Survey Unit E: Urban settlement (Villages) around these which can be treated as hinterlands.
Following activities are going on to meet the above objectives of the project:
Desktop Survey of Rajgir
On-ground survey of Rajgir
In fact, the project is in progress. We have surveyed around Bhaibharagiri hills behind the Tapovan hot Complex, Banganga area and noticed some archaeologically potential site. We have co-ordinates of these sites. In Tapovan hot complex, there are round twenty small religious place/temples which reveal outstanding features.
Our theme - Rajgir: a journey of self-discovery and we are displaying following posters related to the Project.
Poster One: Rajgir: History and tradition (narrating Historicity of the place, its archaeological exploration made by previous scholars with pictures)
Poster Two: Nālandā University: Ceaseless Bestower (sketching its knowledge tradition, some visuals)
Poster Three: Brief introduction of the Project, Methodology, Anticipated activities, Survey Area Units
Poster Four: Displaying pictures of some potsherds obtained during exploration of the area
Poster Five: Pictures of some sites with caption
Poster Six: Visuals of Past Heritage walk which aims to educate the local people about the rich historical traditions of this place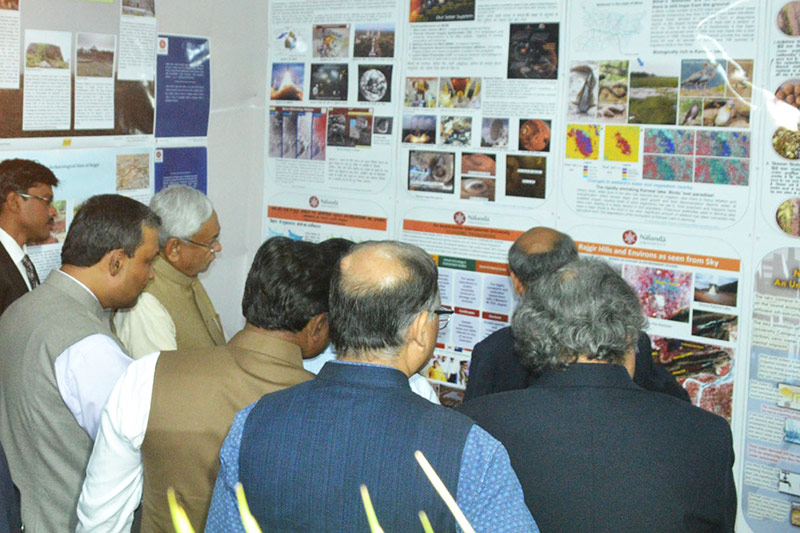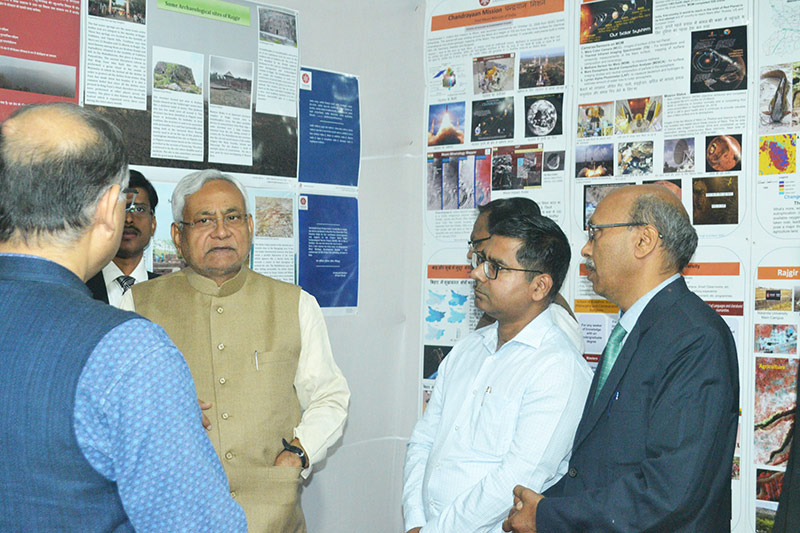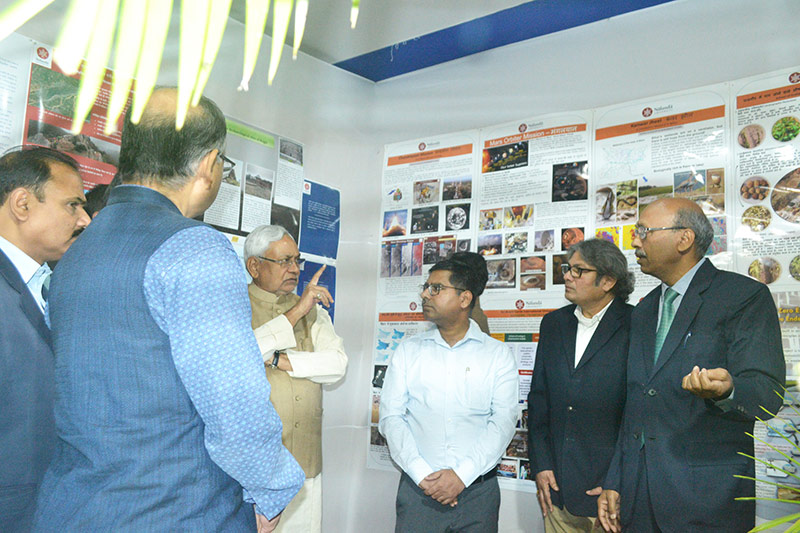 SCHOOL OF ECOLOGY AND ENVIRONMENT STUDIES
'Eye in Sky'
The theme selected by the School of Ecology and Environment Study is 'Eye in Sky'. It is essentially India's advancement in space and atmospheric science and technology, and benefits to the society. The objective is to generate awareness among students, children and public at large about space technology.
It will focus on Indian Space Programme. It has four components. (a) Two posters, one each, are on India's achievement in Moon and Mars missions with sensors and science objectives. This is to enthuse the young generation about planetary science and missions. (b) Four to six posters are planned covering various aspects Earth Observation system technology called Remote Sensing, and Geographic Information Technologies and their application for various societal benefits. The focus here will be to highlight the environs of Bihar state and Rajgir as seen by Earth Observations satellites. Of these one will be on Rajgir Hills and its environs and with important tourist places and landmarks annotated on satellite data and supported by field photos. Second is one about Nalanda Ruins and environs appear on satellite data. Third is on important wetland in Bihar called Kabar Taal and it will showcase impact of human activities on the Kabar Taal using time-series decadal satellite data and its significance and conservation values. Fifth poster is on Net Zero concept of upcoming campus of Nalanda University (solar energy, green energy, water conservation, architectural design, etc.) and also construction work progress using time-series satellite data. Two- three posters highlight the application of satellite data flood mapping in Bihar, Forest Fires, Drought in Bihar, and pollution monitoring using satellite data. (c) One poster showcases academic programmes of the Nalanda University. (d) Since Rajgir forest has a few highly important medicinal plants used by locals, therefore, to highlight the ethnobotany of the area one poster will focus on the Medicinal Plants of this area with photographs, local names, botanical names and uses. We also put up a LED panel with computer displaying video of Net Zero concept, monitoring of resources by satellite data, and glimpses of Nalanda University activities.