Harsh (SEES-final year) attends SFD workshop in Goa; to help Rajgir Nagar Panchayat Svacchada project
February 22, 2018
Harsh Yadava, a final year dissertation student from the School of Ecology and Environment Studies (SEES), Nalanda University, attended a Shit Flow Diagram (SFD) workshop in Goa where a series of events on water, sanitation, hygiene, planning and policy, and SDG 6 were held during 19-21 February 2018 in Goa. The trip was sponsored by the Deutsche Gesellschaft für Internationale Zusammenarbeit (GIZ) [English: German Corporation for International Cooperation] and facilitated by Dr Somnath Bandyopadhyay, Associate Professor SEES. GIZ is Germany based organisation which has been working jointly with partners in India for over 60 years for sustainable economic, ecological, and social development. The events were organized by Indian Water Works Association (IWWA), Sustainable Sanitation Alliance (SuSanA), Centre for Science and Environment (CSE), International Reference Centre-Water Sanitation and Hygiene(IRC_WASH), Indian Sanitation Coalition (ISC), Ecosan Services Foundation (ESF) and others. International Reference Centre is an international think-and- do tank that works with governments, NGOs, entrepreneurs and people around the world to find long-term solutions to the global crisis in water, sanitation and hygiene(WASH) services.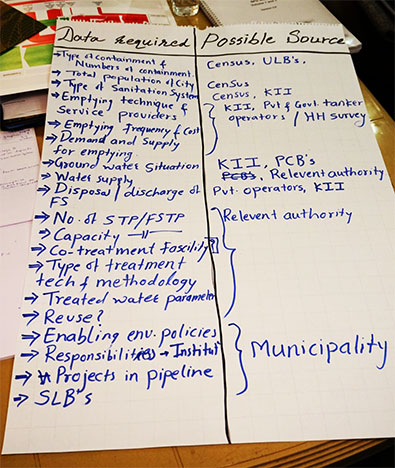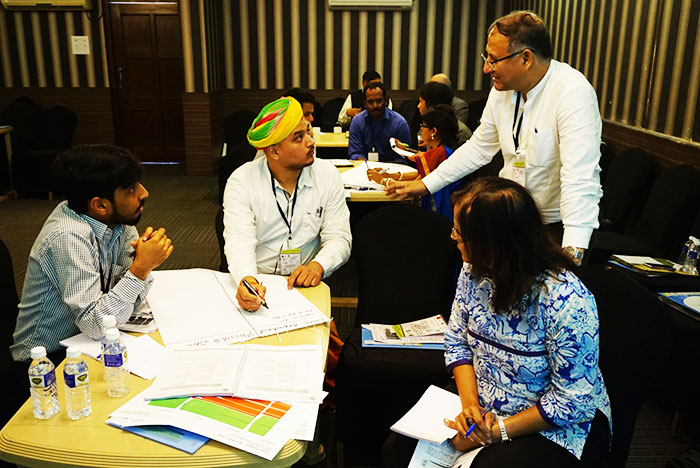 The objective of going was to understand
(i) The tool called Shit Flow Diagram (SFD) developed by experts to qualitatively and quantitatively analyze the faecal sludge management of an area;
(ii) The current WASH situation in India and other parts of the world on the scale of Sustainable Development Goal(SDG) no. 6; and
(iii) How knowledge and expertise from academia can support actions in the environmental domain through NGOs, decision-makers and planners.
This training will help Harsh in preparing a Shit Flow Diagram (SFD) for Rajgir which will be published on the SuSanA platform and used by the Rajgir Nagar Panchayat – a partner of the Nalanda University for the ongoing Svacchadā project. Lessons and insights on impacts of poor sanitation and water services from a WASH dialogue and partnership forum on 'sanitation and tourism' will also be relevant for Rajgir.
Harsh also plans to sensitize and train some of his juniors who may be interested in SFDs as summer projects.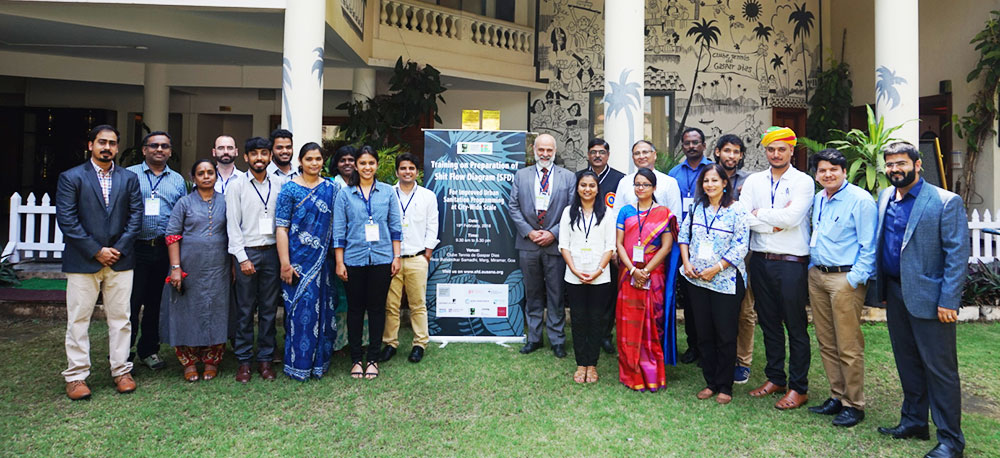 A sample SFD produced by us in a 'Do it yourself' (DIY) exercise during the training
Here, keywords used are-
FS

: Feacal Sludge;

WW

: Waste Water,

Onsite-Sanitation

,

Offsite- Sanitation

Open Defecation

.
Here

red color

shows the unsafely managed sludge and

green color

shows the safely managed sludge.