Nalanda University in forefront of creating 'WASTE-FREE' cities.
June 05, 2018
On the occasion of the World Environment Day, Nalanda University in Rajgir declared its campus as "waste-free", a model that is expected to be emulated by other local institutes/ businesses/ organisations. Initiatives include segregation of waste, partnership with the Nagar Panchayat for regular collection, and composting/ disposal. The importance of institutional waste management in tourist cities is evident during peak seasons, such as the current Malmas Mela, that is drawing lakhs of tourists daily and is being managed by the Rajgir Nagar Panchayat.
The Vice-Chancellor, complimented the students for undertaking extensive awareness programmes in the neighbourhood, particularly among school students. Student volunteers, a couple of them recipients of the prestigious Dalai Lama Fellowship, have developed an exclusive outreach programme for the purpose – Svachchhada. They have also been instrumental in a tie-up with the urban local body for initiating training programmes on vermi-composting, exposure visits and data-driven policies. A joint advisory committee has been constituted to ensure sustainability and scale up of the solid and liquid resource management (SLRM) centre in Rajgir. In a meeting earlier this year, Shri Vinay Ranjan, City Manager and Shri Ashok Kumar, Engineer, Nagar Panchayat, appreciated various suggestions for staff motivation, engagement of communities, participation of responsible tourists and enlisting of local vendors for a cleaner Rajgir.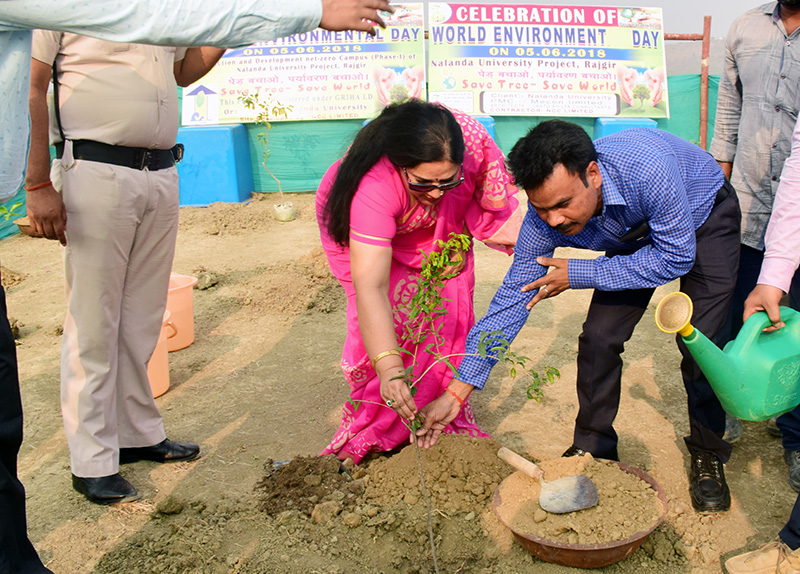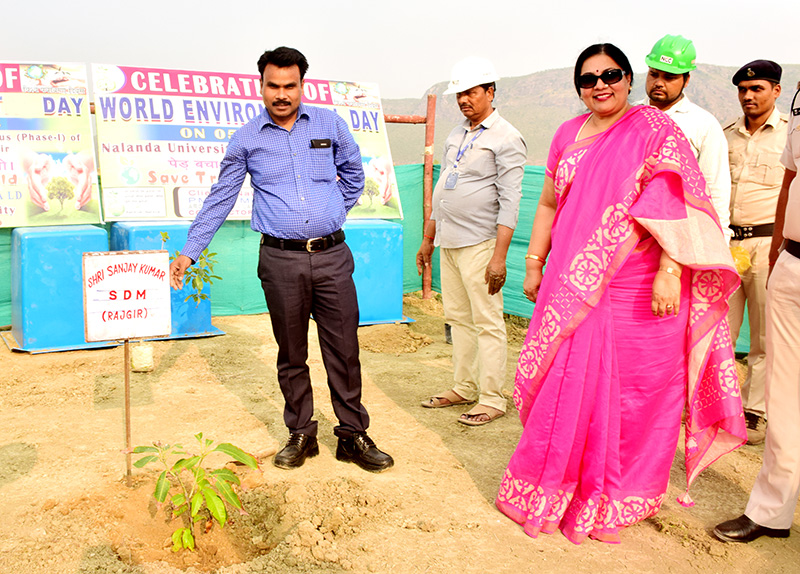 Knowledge on different aspects of waste management in Rajgir, such as solid waste management in religious tourist sites, willingness to pay for door-to-door waste collection services, toilet construction, use and waste water management etc. is derived from a variety of student research projects mentored by the faculty. While the faculty of Nalanda University is developing a holistic approach to address the problem of waste in and around Rajgir, special attention is being given to the issue of garbage disposal, particularly related to the use of plastics. Future studies on plastics will include assessment of the value-chain to ascertain the nature of use and disposal, understand the transport of plastic microfibers in the environment through modeling exercises, and socio-economic studies to identify drivers and motivations for behavior change.
The SDM of Rajgir Shri Sanjay Kumar visited the upcoming campus of the Nalanda University and planted a sapling while attending the World Environment day Celebrations. The Hon'ble Vice Chancellor and the staff of the University as well as construction engineers also planted saplings on the occasion.