27-member delegation from the Royal Society of Thailand visits NU
January 30, 2016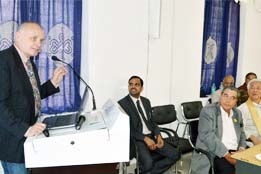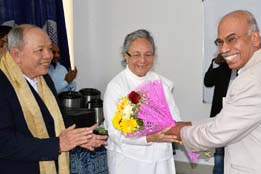 A group of under-graduate students from the University of Illinois and Rajendra Agriculture University (RAU) interacted with the students of Nalanda University on January 10, 2016. Illinois student were in India to work on an ADMI project with the students from RAU. The ADM Institute for the Prevention of Postharvest Loss at University of Illinois and RAU are working under a collaboration on this project for Bihar state. The theme of project is "Reduction of Postharvest Loss for Smallholder Farmers." A distinguished lecture on the topic was also delivered by Prof. Kalita on the same day.
The Board also decided that the School of Public Health will follow in 2018-19. "Catering to the present needs of the neighbourhood in which we are located is one of the mandates of the University and the School of Public Health will greatly benefit the region," said Chancellor Yeo.
The Board thanked the people of Singapore who have pledged the gift of Sing $10 million to design build and deliver a library at the University's campus. This gift from the people of Singapore (not the government) was the initiative of Chancellor Yeo, at a time before he was named Chancellor.
A day prior to the Governing Board meeting, an exhibition was held to showcase the designs of the Masterplan and library plan of the University. Vastu Shilpa Consultants who are the Masterplanners of the University and RSP architects, planners & engineers who are the designers of the library also made presentations to explain the plans of construction in detail. The first phase of construction includes the construction of Academic & Administration Buildings, Residential Buildings for Faculty, Staff and Students Amenities Buildings, the International Centre and Sport Facilities.
Chancellor Yeo had arrived a week early at Rajgir, along with supporters and friends of Nalanda University from Singapore and Hongkong. He spent time with the University students, faculty and staff during the week and also presided over the Indian Republic Day celebrations at the University on January 26.