71st Independence Day
August 15, 2017
Nalanda University celebrated the 71st Independence Day with a great fervour and renewed zest.
The morning was bright and sunny; under the clear sky the Indian flag was unfurled by the new Vice Chancellor, Prof Sunaina Singh, in the front lawn of the University at 8:00 AM on 15th August, the Independence Day of this great country. The Vice Chancellor shared her thoughts on this occasion with the whole community i.e. Faculty, staff, students and other guests, who were present in full strength at the ceremony. She spoke about the importance of this day in every Indian's life. She paid homage to all the martyrs who sacrificed their lives in the struggle for India's freedom. She highlighted "the development that India has witnessed since its independence is commendable".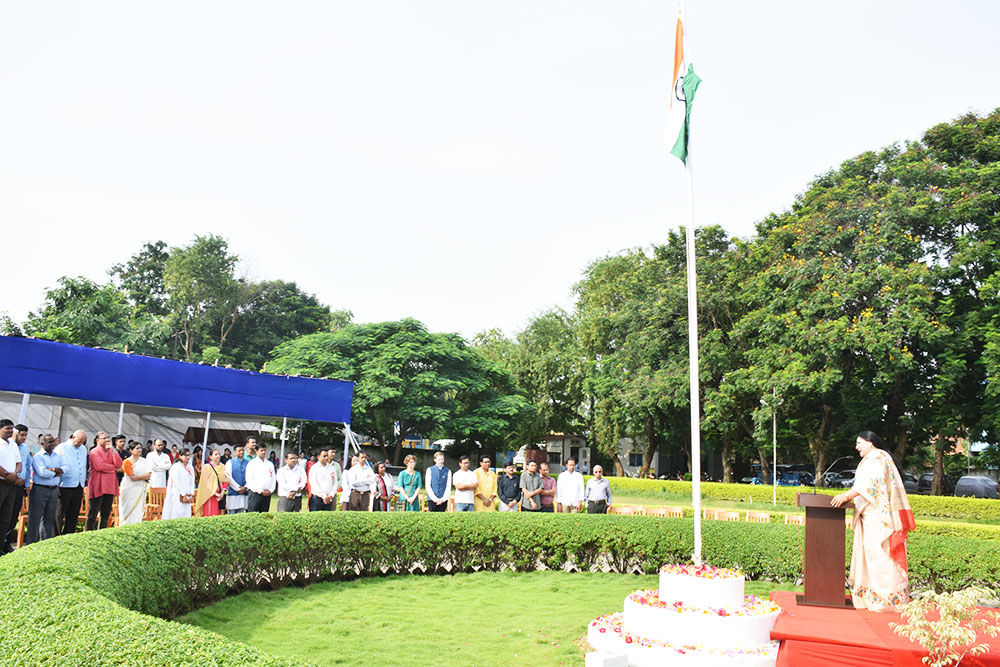 She said "we have to analyse the difference between independence and freedom, as there is a very thin line between the two". The Vice Chancellor also thanked all the Faculty and staff for their tireless work towards the development of the University. She emphasised on laying strong and holistic foundations for the University, which may be cherished by the students at Nalanda. It was truly spectacular to see the diversity at the gathering; existing students, not only from different parts of India, but also from 20 countries across the Globe, participated at the event.

The Vice Chancellor's address was followed by few dance and song performances by the students of the University. The morning celebrations ended with the community members meeting each other over the breakfast and wishing each other for Independence Day. The whole Nalanda community gathered again in the evening to enjoy spell bounding culture performances by the students. 
The evening ended with an official dinner at the Ajatshatru Residence Hall of the University.