Vice Chancellor Gopa Sabharwal participates in Buddha Purnima Celebrations at Maha Bodhi Society of India 
May 24, 2016
Nalanda University Vice Chancellor, Dr. Gopa Sabharwal joined in the Buddha Purnima Celebrations and the Celebration of 125 years of the Mahabodhi Society of India on May 21, 2016 at the New Delhi Centre.
The Vice Chancellor and the former Dean Dr. Anjana Sharma were special guests of the High Commissioner of Sri Lanka in India, H.E. Esala Weerakoon who was the Chief Guest on this occasion. Mr. Tsering Namgyal Shanoo, Member National Commission for Minorities in Government of India presided over the event.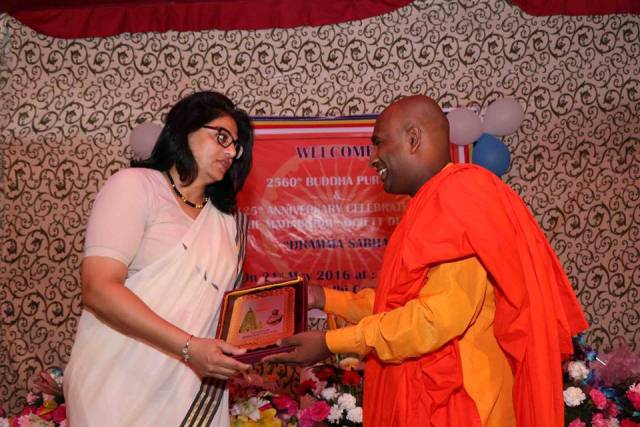 Maha Bodhi Society was founded by the Sri Lankan Buddhist revivalist Anagarika Dharmapala for resuscitating Buddhism in India, and restoring the ancient Buddhist shrines at Bodh Gaya, Sarnath and Kushinara in 1891.
The Society has completed 125 years this year and has been holding events to celebrate this milestone in various centres through the year.