President of India Confers Degrees on the Pioneering Batch and also lays the Foundation Stone of the New Campus 
August 30, 2016
On August 27, 2016 Shri Pranab Mukherjee, Hon'ble President of  India conferred the degrees on Nalanda University's pioneering batch and also laid the Foundation Stone of its new campus. Guests of honour on this occasion included the Governor of Bihar Shri Ram Nath Kovind and Chief Minister of Bihar Shri Nitish Kumar. Former Foreign minister of Indonesia and Member of the International Advisory Panel Dr. Hassan Wirajuda was a special guest.
It was a historic occasion as Nalanda awarded its first degree in 800 years. The convocation and foundation stone laying ceremony were held at the 455-acre land given to the University by Bihar Government where the University's new campus will be built.   
Hon'ble President of India gave the convocation address. Hon'ble Governor of Bihar Shri Ram Nath Kovind and Chief Minister of Bihar Shri Nitish Kumar also addressed the audience on this historic occasion. Chancellor Mr. George Yeo, Founding Chancellor, Professor Amartya Sen and Vice Chancellor Dr. Gopa Sabharwal also addressed the gathering.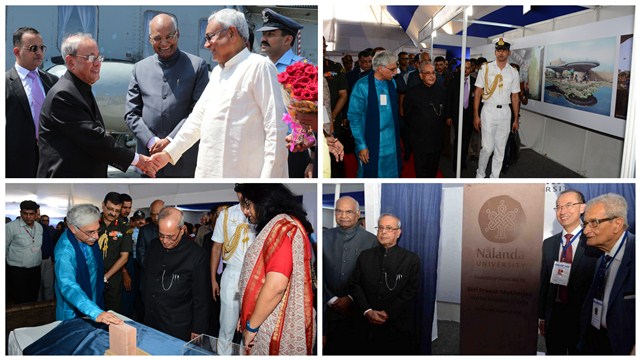 The Governing Board Members of Nalanda University had travelled from different parts of the world to be a part of this historic day.
Over 20 members from the diplomatic corps of 11 countries including H.E. Mr. Chalit Manityakul Ambassador of Thailand to India and H.E. Mr. Kenji Hiramatsu, Ambassador of Japan to India joined this event. 
Various other guests from the Government of Bihar were also present including Deputy Chief Minister Mr. Tejaswi Yadav, Education Minister Mr. Ashok Choudhary. Former Deputy Chief Minister of Bihar, Mr. Sushil Kumar Modi was also present.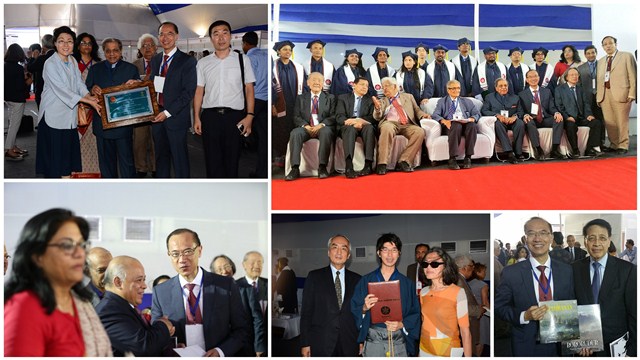 The Nalanda District Magistrate Mr. Thiyagarajan SM and Superintendent of Police Kumar Ashish and various other members of district administration who were in charge of security and other arrangements also joined this historic event.
The 12 Pioneering students who got their degrees, their parents and family members were present along with the entire University Community that included faculty, students, staff and their families.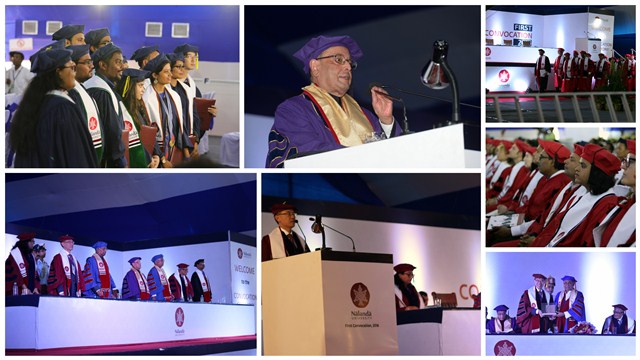 Members of the media included local and national representatives. Various people including weavers, shopkeepers, school principals, leaders of temples and others from Rajgir and Biharsharif were also a part of the audience. Around 650 people were present at the venue to witness the historic first convocation.
Convocation Videos
Nalanda University First Convocation 2016 at Rajgir