Nalanda University Becomes the first University to Adopt Khadi
for its Academic Regalia
August 25, 2016
The University has officially adopted Khadi for its Academic Robes. Governing Board Member, Lord Meghnad Desai made this announcement at a Press Conference in Rajgir earlier today.
Speaking to the media he said, "The University wanted its academic dress to be in broadly in line with the internationally accepted guidelines on academic dress but to also have a distinctively Indian touch. The university experimented with fabrics that are woven in and around Nalanda and in Bihar and made a choice of trying to innovate with regalia made of khadi, the fabric at the heart of Indian identity with multiple symbolisms."
While the heavy velvet gowns that are the norm in the west, were designed to keep out the cold in old buildings, in the Indian weather, khadi is also the most climatically appropriate fabric.
"In opting for khadi for our regalia, Nalanda University becomes the first and only Indian university to have its entire academic regalia in the national fabric." he added.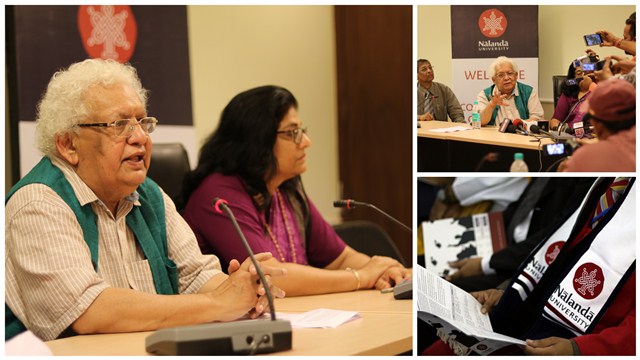 Academic costume or regalia is an important part of the identity of any institution. It defines the institution and is part of the abiding moment in the lives of all the graduates from the university and something they wear with pride. Once set, the academic regalia will define the identity of the institution for many years to come.
India has not adopted any National level code for academic regalia and so, Nalanda University was free to set its own rules with regard to colour and trimmings etc. Speaking on the occasion the Vice Chancellor Dr. Gopa Sabharwal said, "The two University colours, Nalanda Blue and Nalanda Red have been given respectively to the faculty and students-the two pillars of the University." She also informed that the silk used in the stoles of the Visitor and other Distinguished guests in the Academic procession was procured from the neighbouring village of Nepura.