Nalanda University to Collaborate with Kanazawa University from Japan
April 28, 2017
Nalanda University signed a Memorandum of Understanding with Kanazawa University from Japan for academic collaboration on April 27, 2017.
Prof. Mori Masahide, Professor and Head of the School of Humanities, Kanazawa University brought the draft MoU, bearing the signature of the President of the University, and Professor Pankaj Mohan, Interim Vice Chancellor of Nalanda University put his signature on it on behalf of Chancellor Dr Vijay Bhatkar in Rajgir.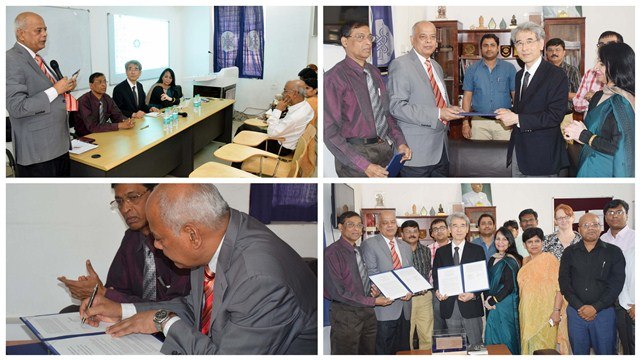 According to the MoU, the two Universities will make an effort to promote and develop cooperation in the following activities:
Exchange of faculty members and research fellows
Exchange of students
Exchange of academic materials, publications, and information
Conducting joint research projects and organization of symposiums
Other activities that contribute to the development of academic and educational exchange between the two institutions
Speaking on this occasion Professor Pankaj Mohan said, "India and Japan are ancient civilizations, bound by close cultural ties, and Nalanda played a crucial role in this civilizational dialogue. Since Nalanda University has the mandate to re-discover the threads of inter-Asian connection, our MoU with Kanazawa University holds immense significance.
Prof. Mori Masahide in his brief speech said, "Kanazawa University has been designated by the Japanese Ministry of Education as a "Super Global University", and as Nalanda University shares this vision and goal, the MoU would pave path for an enduring partnership between the two institutions." Professor Masahide was accompanied by Ms. Maqsooda Shiotani, International Exchange Adviser of Kanazawa University and Head, Hokuriku Japan India Club, for the signing of the MoU.
Mr. K. Chandramoorthi, the Officiating Registrar of Nalanda University said, "We are pleased to collaborate with Kanazawa University, a 50-year-old National University of Japan whose roots can be traced to 1862. The two Universities will work together in various areas and shall also support joint programmes whenever feasible. This agreement will remain in effect for five years."
Kanazawa University is located in the city of Kanazawa, the capital of Ishikawa Prefecture. It has two main campuses: Kakuma and Takaramachi. It offers various undergraduate and graduate courses and has three colleges and 16 schools with about 11,000 students including 350 international students.