University Welcomes the Class of 2018 
August 11, 2016
In the first week of August Nalanda University welcomed it's third batch of students in the Class of 2018 in the School of Ecology and Environment Studies, School of Historical Studies and the inaugural School of Buddhist Studies, Philosophy and Comparative Religions. 
More than 80 students from 12 countries including India have joined the University this year.
The University held an orientation programme for university wide orientation from August 1 to 3.  On the first day of Orientation the Vice Chancellor Dr. Gopa Sabharwal addressed the students after their registration and welcomed them into the Nalanda University Community. A high tea was held in the evening and students also wrote in the Nalanda Book. On the second day the students were introduced to different divisions in the University and shown around the interim campus. They also found out about the upcoming campus and were briefed on the Student Handbook. Senior students also held a dinner for the incoming batch in the evening.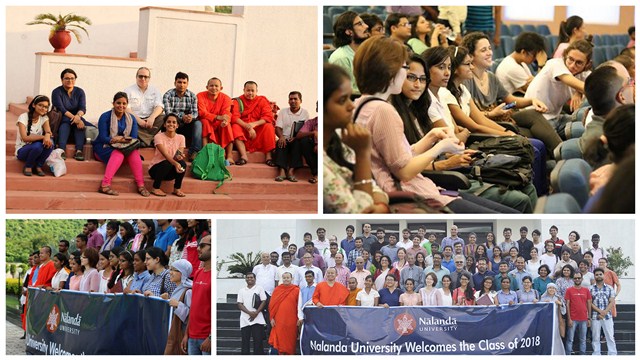 On the third day, students visited the upcoming campus site and the Nalanda ruins. 
The last two days of the Orientation Week were spent in School Orientation for all the students of the incoming batch. The students met the faculty and senior students during School Orientation and also got a briefing on what they are expected to do in the form of coursework in the next two years.