Professor Sunaina Singh appointed Vice Chancellor of Nalanda University
March 30, 2017

Shri Pranab Mukherjee, Honourable President of India, in his capacity as the Visitor of Nalanda University has appointed Professor Sunaina Singh, Vice Chancellor, The English and Foreign Languages University, Hyderabad as the next Vice Chancellor of Nalanda University. The University's Officiating Registrar, Mr. K. Chandramoorthi received a communication regarding the Vice Chancellor's appointment from the Ministry of External Affairs on March 29, 2017.  
Professor Singh has been appointed for a five-year term from the date on which she enters upon office. The terms and conditions of her services will be as set forth in the Act, Statutes, Ordinances and other rules and regulations of the University. 
Following her appointment Professor Singh said, "I accept the appointment with all humility, and shall strive to work towards rebuilding this glorious institution." Professor Singh is expected to join Nalanda University in May 2017.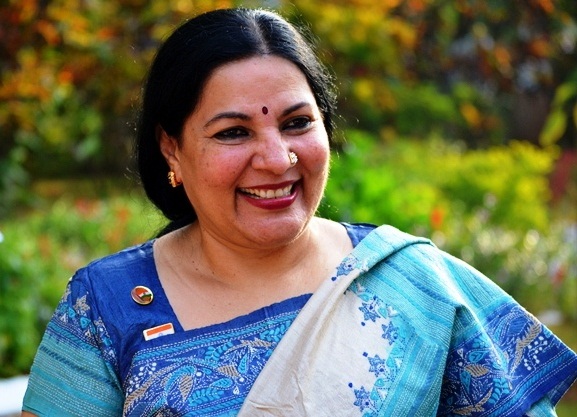 As the head of a Central University, Professor Sunaina Singh is among the most prominent women Vice Chancellors in the South Asian region. A distinguished academician and administrator, she also holds the position of Vice President of Indian Council for Cultural Relations (ICCR). She has the distinction of being the first Indian woman to head as the President of Shastri Indo-Canadian Institute, the bi-national research institution with headquarters in New Delhi and Calgary under the MHRD and Canadian Government.    

Professor Singh brings with her a rich blend of scholarship, professional integrity, and administrative competence. Her impeccable and proven track record as an able and visionary administrator has enabled her to excel in her leadership role, a fact acknowledged by the many prestigious awards she has won including Award for Outstanding Contribution to Education, 2014 and 100-Most Influential Vice Chancellors, 2016 (World Education Congress).

Currently, a member of several national and international Academic committees, Prof Singh is engaged in the challenging task of restructuring and redesigning university pedagogical and administrative systems.