Nalanda will play an important role in establishing peace and harmony just like its ancient predecessor: Shri M. Hamid Ansari Hon'ble Vice President of India
September 9, 2016
In an interaction with students and faculty of Nalanda University on September 8, 2016 Shri Mohd. Hamid Ansari, Honourable Vice President of India said that Nalanda University will play a role in establishing peace and harmony just like its ancient predecessor.
"The ancient Nalanda University played an important role in bringing together Scholars from around the world and establishing peace and harmony. I expect the present university to follow the same path and provide answers to many of the complex questions the world has today. The University with its focus on inter-disciplinarity is as good place as any for cross fertilisation of ideas," he said.
Honourable Vice President was on a two day visit to Bihar and was accompanied by the Governor of Bihar H.E. Shri Ram Nath Kovind and the Education Minister of Bihar Shri Ashok Choudhary for the interaction with Nalanda University Community.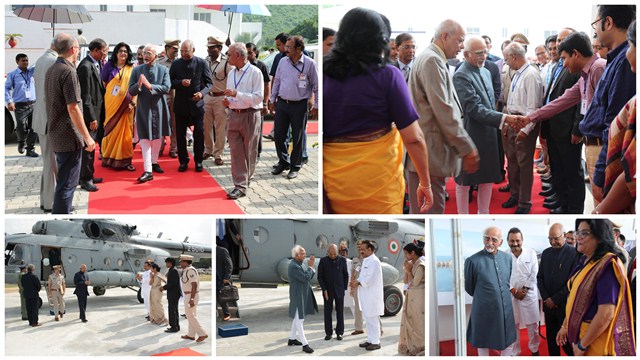 In the interaction with students he addressed various issues ranging from climate change to the idea of Nationalism.
Talking about the concept of Nation states, he said, "Nation states are a recent phenomenon. Xuanzang could walk across countries and he did not need a passport and visa to come to Nalanda. It was his urge for knowledge that brought him here. Today we are building more and more barriers. Instead of uniting we are dividing. People talk about one world but they don't implement it. It requires a change in mind-set, a change of thinking on a daily basis. We have to think as a global community. If a river is flowing by my house and I am creating barriers so that I get the water first and when there's a flood I remove the barrier so that the next person living by the river gets affected and I am fine then I am definitely not thinking about the community."
Answering questions on sustainable development he said, ''I am not an environmentalist or scientist but I know that if I will burn my house then I will have no place to live. Development at the cost of environment is never acceptable. The shelter which environment provides takes decades to restore. No Government can restore it in a short time."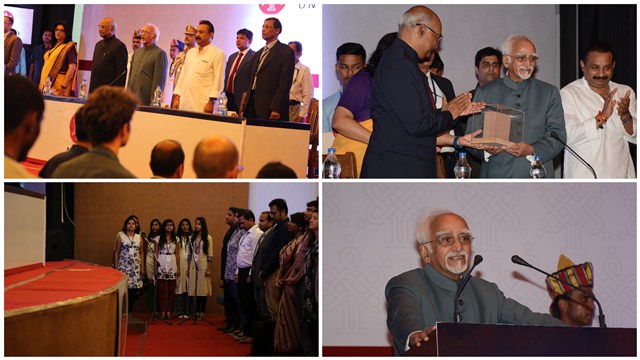 Talking about what nations should actually consider as their interest he said, "A good indicator of how any country is protecting their national interests would be how much of its budget is given to environment, health or education."
He lamented the fact that in India absenteeism of teachers in Schools is as high as 25 percent today. "If students don't perform then it is teachers, who are failing. Implementation of right to education is vital. The kind of education we provide also needs to be examined. We need to have differentiated development. The country is facing an internal migration of skills and though we produce many graduates, we are not producing enough technicians and electricians."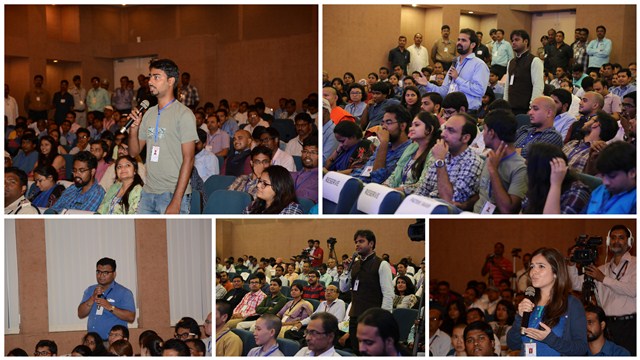 He concluded by saying that despite the instability, chaos and growing pessimism around the world, he remained optimistic about the future. "When Gandhiji started freedom movement he did not have any lethal weapons to fight. He just had the will and the drive to make a change. We like to talk about change but now we need to make an effort to make a change and I am optimistic that this change can start right here at Nalanda. "
Honourable Vice President was welcomed by the Vice Chancellor Dr. Gopa Sabharwal, who showed him the exhibition on the upcoming campus and also felicitated him with a Memento that is a replica of the Compressed Stabilised Earth Block carrying the Nalanda Logo, which is going to be used instead of bricks in building Nalanda's upcoming campus.
Honourable Vice President also visited the Nalanda ruins following the visit to the University.