October 31, 2017
Vigilance Awareness Week (30 October – 04 November 2017)
Nalanda University observed the "Vigilance Awareness Week" (30 October – 04 November 2017), as per the guidelines laid down by the Central Vigilance Commission of India.
In order to re-iterate the resolve to promote integrity and eradicate corruption by maintaining the highest level of ethical standards, the Faculty and staff of the University gathered together in the Interim Campus, at 6:00 PM on 31 October 2017.
The Hon'ble Vice Chancellor, Prof. Sunaina Singh, addressed the gathering and while doing so she emphasised that it's our moral duty, not only to keep the surroundings clean but also to keep our characters unblemished. She said "Each of us are the torch bearers of the University. Corruption does not relate to the money only; it can also be practised by indulging in moral turpitude. Every individual at the University has to be vigilant about the righteousness of her or his deeds."
At the end of the address, an oath was administered by the Hon'ble Vice Chancellor, which read as follows: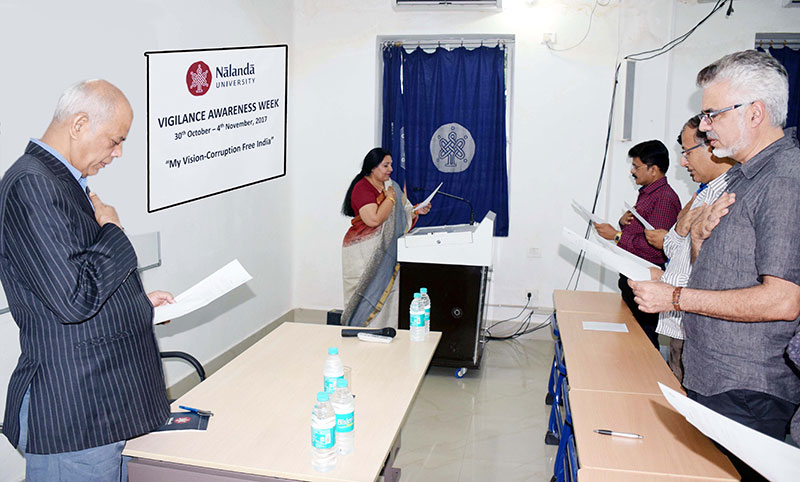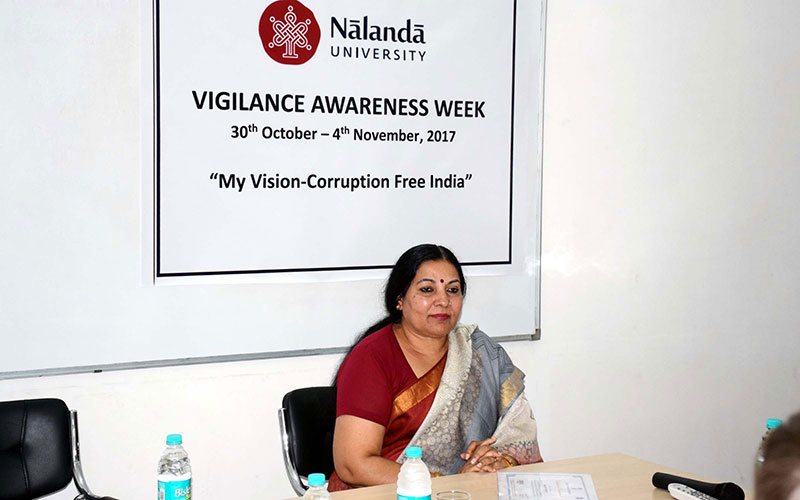 I believe that corruption has been one of the major obstacles to the economic, political and social progress of our country. I believe that all stakeholders such as Government, citizens and private sector need to work together to eradicate corruption.
I realize that every citizen should be vigilant and commit to the highest standards of honesty and integrity at all times and support the fight against corruption.
I, therefore pledge:
To follow probity and rule of law in all walks of life;
To neither take nor offer bribe;
To perform all the tasks in an honest and transparent manner;
To act in public interest;
To lead by example exhibiting integrity in personal behaviour;
To report any incident of corruption to the appropriate agency
The event ended with some of the Faculty members sharing their thoughts and experiences related to the issues of corruption and probity in life.