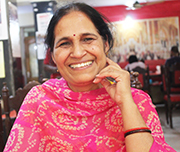 Dr. Veena Gaur
Guest Faculty (Teaching Associate)
gaurveena3@gmail.com

Dr. Veena Gaur is a Guest Faculty (Teaching Associate) in Pali at the School of Buddhist Studies, Philosophy and Comparative Religion. She acquired her Ph.D. degree in Buddhist Studies from Delhi University (D.U) Delhi in 1985 on "Buddhist Doctrine in Sanskrit Mahåkåvyås (till 400 A.D.)". She was awarded M. Phil. in Buddhist Studies from D.U. in 1981 on "A Critical Analysis of the Problems of Lakkhan-Pañho. She acquired her M.A. degree in Sanskrit from Aligarh Muslim University, Aligarh in 1979. Subsequently, she completed Åcårya in Påli from Sri Sampurnanand Sanskrit University, Varanasi in 1993. She obtained several certificates such as Certificate and Diploma in Tibetan Language and Literature from D.U. in 1982; Diploma in Påli Language and Literature from D.U in 1984; Certificate, Diploma and Advanced Diploma in Urdu Language and Literature from D.U. 1987- 1989; Certificate, Diploma and Advanced Diploma in Maråthi Language and Literature, D.U. 1990-1992. Dr. Gaur has 26 Years of teaching and research experience along with 10 years RA (UGC), Ad-hoc and Guest Faculty. She taught Post Graduate, Certificate and Diploma Courses in Buddhist Studies at the Department of Buddhist Studies, the University of Delhi since 1987 till 22nd  May 2013.  She was Research Associate in Buddhist Studies, D.U. under Project "Samådhiråja Sȗtra Kå Dårsanika Parishilana" from January 1987 to January 1992.  Dr. Gaur was Research Associate in Buddhist Studies, D.U. in Project on "Development of Mahåyåna Doctrine in Suvarnaprabhåsh Sȗtra: A Critical Study" from 1993 to 1998. Dr. Gaur has a number of publications. The most significant works are – (1) 2000- Puggal–Paññatti (Pali Text translated in Hindi and English), Eastern Book Linkers Publication, Delhi; (2) 1995-Samådhiråjasȗtra, with exhaustive introduction and Hindi-English Translations; (3) 1988- Buddhist Doctrine in Sanskrit Mahåkåvyås. Dr. Gaur presented more than 48 research papers in International/ National Seminars and Conferences. She was Research Fellow, Råshtriya Sanskrit Sansthåna, Govt. of India, from March 1980 to Sept. 1982 and Ministry of Education and Culture, Govt. of India from January 1983 – January 1985.
Presentations in Conferences and Seminars and Invited Lectures
Veena Gaur, 'Role of Truth and Ahimsā and Its Relevance in the Modern Age' Three Day National Conference On Gandhian Activism For Human Perfection''Organized by Department of Philosophy, Cooch Behar PanchananBarmaUniversity,West Bengal, held on 25-27 Feb.2019.
Veena Gaur, 'Consciousness and Self-Transformations' To day national Conference on Cultivatining Consciousness for Self-Transforamtions, organised by Indian Society for Indic Studies, M.S. University, Vadodara, 24-25, Oct, 2018.
Relevance of Vaidic, Education in Modern Society, National Seminar, Guahati, University, Assam, 4-6 Jan., 2018.
'The Rāmāyaṇa for Transformations for leadership', Three day International Conference on Applied Ancient Wisdom for Transformational Leadership, Delhi Technical University, 20-22 Feb. 2018.
Literary Works and Translations in Buddhist Sanskrit and pāli', International Conference on Theravad and Mahāyān : Philosophy of Ultimate Reality, Tibbet House, New Delhi, 8-10, Sept., 2017.
Lecture delivered on BhāratiyaSamskritievam Yoga, Gandhi Bhawan, Delhi Univerity, 7th April 2018.
Social Work
She is a member of International NGO–United Religions Initiative (URI), UK; Religious Youth Service (RYS), the U.K.  and  Mahila Chetana Kendra (MCK), Delhi.