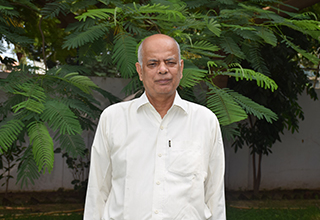 Dr. Pankaj N. Mohan
Professor and Dean,

Pankaj N. Mohan (born 17 July 1955) completed Higher Diploma in Korea (2-year intensive course), followed by Five-year Integrated M.A. Course in Chinese at Jawaharlal Nehru University, New Delhi in 1978 and 1984 respectively. Subsequently he completed advanced courses in Korean language and M.A. in Korean history at Seoul National University, Seoul on the Korean Government scholarship. He earned his PhD degree in the field of Korean history at the Australian National University, Canberra. He was selected for the coveted Australian Postgraduate Research Award by the Australian Government to complete his PhD. As a doctoral student he was also a recipient of Chinese Government scholarship to study Classical Chinese at Peking University, Beijing (1992), Korea Foundation Doctoral Fellowship (1993) and the Academy of Korean Studies Fellowship (1994).
Prior to joining Nalanda University in January 2015 as a professor of history, Prof. Mohan served as a professor and Dean, Faculty of International Korean Studies at the Academy of Korean Studies (a Postgraduate Central University), Korea, University Instructor/ lecturer in Korean Studies at the University of Copenhagen, Denmark (1999-2002) and Lecturer(Asst. Professor) in Korean Studies and Asian Studies at the University of Sydney, Australia (1997- 1999, 2002-2009).
Select Publications
(A) Books
Munhwa jeongcheseong-gwa jongyo (Cultural Identity and Religion), Co-authored, The Academy of Korean Studies, 2017
Hanguk pulgyosa yongu immun, 2 Volumes, co-authored- Choe Byong-hon et al, Chisik sanop Publishers, Seoul, 2013. (The book won Korean Ministry of Culture Prize and The Academy of Science Prize)
The Ancient Korean State of Silla: Political Developments and Religious Ideology, The Academy of Korean Studies Press, 2011, Revised version 2013
The History of Korea by Han Young-woo, edited and translated, National Institute of Korean History, Seoul, 2009
Korean Nationalism Betrayed by Joong-seok Seo, Co-translated, Global Oriental and Brill, 2007
(B) Journal Articles and Book Chapters
"The Controversy over the Ancient Korean Kingdom of Gaya: A Fresh Look at the Korea Japan History War", History War and Reconciliation in Japan and Korea: The Role of Historians, Artists and Activists, edited by Michael Lewis. New York: Palgrave Macmillan, 2017, pp. 1107-124
"India's Buddhist Linkage with Korea during the Colonial Era", International Journal of Buddhist Thought and Culture, Vol. 26. No. 1 (June 2016), pp. 11-33
"Influence of Buddhist and Confucian Thought on 'Publicness' during the Early Silla Period" Ancient Korean and Japanese History and Publicness (edited volume in Korean), Academy of Korean Studies Press, 2016, pp.
Historical Texts on Early Korea and Modern Historiography", Colonization: A Comparative Study of India and Korea, edited by Vjayanti Raghavan and R. Mahalakshmi, New Delhi: Academic Foundation, 2015, pp. 77-92
"Baekje Kingdom", "Goguryeo Kingdom", and "The Kingdom of Silla", Encyclopedia of Empires, Wiley-Blackwell, 2015
"Monk Iryon's Understanding of the History of Indian Buddhism and Buddhist Thought: Focusing on the India-related Entries of the Wangryeok (Royal Chronology)", Silla sa hakbo (Society for the Studies of Silla History)", Vol. 30, 2014, pp.197-250
"Buddhism as a Conduit of Nationalism in Korea and India in the Early 20th Century: Focusing on the Role of Han Yong-un and Rahul Sankrityayan". Journal of Korean Ethics Studies, 92, 2013, pp.93-120
Reading the Text as a Prasasti (Panegyric): A Fresh Approach towards King Kwanggaet'o Stele (Co-authored), Philologia, 58,1,Studia Universatis Babes-Blyai University, 2013, ,pp. 147-160
"Buddhism as the Force of ideological Cohesion: Focusing on the Uses of Buddhism in Ancient India, North China under Central Asian Tuoba Wei Ruler and Korea", Journal of Korean Association of Buddhist Studies, 62, 2012, pp.6-37
"Buddhist Relations between Silla Korea and Tang China in the 7th Century", Buddhism in East Asia: Aspects of History' First Universal Religion Presented in the Modern Context, edited by Anita Sharma,,Vidyanidhi Prakashan, New Delhi, 2012 pp. 172-184
"Sogu haggyewa hangughaggye ui hanguk godaesa yongu: Kibon saryo ui haesokul chungsimuro" ( Researches on Ancient Korean History by Western and Korean Scholars; Focusing on the Interpretations of basic sources) Asea munhwa yongu (Asian Culture), vol. 22, 2011
"Rise of De-Confucianized Historiography in Modern Korea and the Current Sino-Korean Dispute over Goguryeo, The Dongguk Historical Review, 50, 2011, pp. 53-93
"Soyang hakkyeui kodae pulgyosa yongu" (Trends in Western Research on Early Korean Buddhism), Sillasa hak bo 21, 2011
Religious Development in Early Three Kingdom Korea" Encyclopedia of World History (ABC- CLIO Publishers, USA ) 2011
Ilje kamjong gi Ilbonin yonguja ui silla ch'ogi pulgyosa yongu" (Japanese Research on Silla Buddhism during the Japanese Colonial Period), Sillasa hak bo , 19, 2010
"Tagore's Idea of Pan-Asian Solidarity and its Influence in East Asia" Globalization, Localization and Japanese Studies in the Asia-Pacific Region Vol 1 Kyoto, 2010
"Ji Xianlin and Tagore" (in Chinese), Nanya yanjiu, (2008)
"The Roles of Monks Won'gwang and Chajang in the Formation of Early Silla Buddhism" Korean Religions in Practice,. Princeton University Press (2007) pp. 51-64
"China's Nationalist Historiography of the "Northeast Project" and the Australian Response to Its Challenges" Journal of Inner and East Asian Studies 3-1 (2006) pp. 27-46
"Beyond the 'Nation-protecting' Paradigm: Recent Trends in the Studies of Korean Buddhism", The Review of Korean Studies Vol. 9, No. 1 2006 pp. 209-232
"Buddhist Kingship in Sixth Century Korea" The Journal of the Oriental Society of Australia, 35 (2003)
"Kingship", Encyclopedia of Buddhism, edited by Robert E. Buswell, Macmillan Reference, New York: Thomson Gale, 2003
"Maitreya Cult in Early Silla", Seoul Journal of Korean Studies, Vol. 14 (2001) pp.148-173
"Life and Times of Silla King Chinhung: Asoka as a Role Model", Korean Culture (Los Angles), 17-1 (1996) pp. 12-23
"Lu Xun : A Cultural Movement", China Report (Guest Editor" Patricia Uberai) Delhi June 1982
Professional Affiliation and Services
During the last three decades of his academic career he rendered professional services as an editor of the Review of Korean Studies" (The Academy of Korean Studies publication), Editor- in-chief of Korean-Indian Culture : Han In Munwa, (Seoul) and member, editorial committee of several journals such as Journal of Northeast Asian History, Journal of Inner and East Asian Studies, International Journal of Buddhist Thought and Culture, Asian Culture and Studies in Silla History. He also served as an advisory board member of two book-series, Sino-Indian Cultural Interactions, (Beijing) and Translation Project of the Annals of Joseon Dynasty (National Institute of Korean History, Gwacheon City, Korea) and executive committee member of Australasian Association of Buddhist Studies, Korean Association of Buddhist Studies and Tagore Society of Korea. He served as an external examiner of doctoral theses in Korean studies, Chinese studies and history, submitted at the School of Oriental and African Studies, London, University of London, the Australian National University, the University of Queensland, Jawaharlal Nehru University and Jamia Milia Islamia, New Delhi. He was invited to present research papers at numerous colloquia and international conferences, held at Manoa (Hawaii), Austin (Texas), London, Berlin, Denmark, Oslo, Rome, Moscow, Tokyo, Seoul, New Delhi, Ho Chi Minh City, Taipei, Beijing, Shandong, Almati, Canberra, Sydney and Perth.
Awards and Honours
He was awarded Honorary Citizenship of the city of Seoul in 2010, Umeshwar Prasad Verma Smriti Samman in 2017 and Plaques of Appreciation/Honour by Tagore Society of Korea, Seoul, Korea Globe, Seoul and Center of Korean Studies, JNU. He also won numerous internationally competitive fellowships and grants, including Australia-Korea Foundation Grant, 2013, POSCO Foundation Asia Research Grant, 2012, The Academy of Korean Studies Research Grants, 2012, 2013, 2014, National Institute of Korean History Grant (2011), Korea Foundation Research Fellowship, 2008, Korean Literature Translation Grant (with Prof. Do-hyun Han), University of Sydney Sesqui Research Grant, 2003 and Daesan Foundation (Seoul) Grant, 2003
Current Research Projects
His current research areas of interest include colonial linkages between Korea and India and Buddhist Pan-Asianism.
Recognition of Scholarship
External Examiners, Professor Lewis Lancaster (University of California, Berkeley) and Dr. John Jorgensen (Griffith University, Australia) on PhD thesis "A pioneering work that has attempted to free the study of Buddhism in the three kingdoms from the confines of Korean materials alone" "The thesis stands comparison with any of the works written to date on early Silla history or Buddhism, whether in English, Korean, Japanese or Chinese known to me".
Comment of Selection Committee, comprising Dr. Young-suk Park (SOAS, University of London), Professor Staffan Rosén (University of Stockholm) and Associate Prof. Yoichi Nagashima (University of Copenhagen), on suitability for a tenure-track position at the University of Copenhagen (June 2002)

"Dr. Mohan is an extremely rare scholar. Mohan's studies have convincingly demonstrated that he has mastered and can freely use any of the materials written in three major East Asian languages, i. e. Chinese (especially classical primary source), Japanese and Korean. We should bear in mind that there are very few scholars in Europe who have this rigorous training and reached this standard. Classical training, as we all know, is the basis of all humanities, unfortunately, its value is increasingly lost sight of.

Benchmarking assessment of the Department of Korean studies, University of Sydney in 2004 by Professor Ken Wells, Professor of Korean history at the Australian National University, (Aug. 2004) "Dr Pankaj Mohan has established himself as a leading scholar of early Korean history, and as a Korean Buddhologist, he ranks among the top four in the world writing in English.