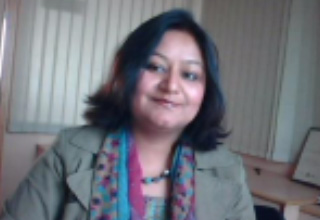 Prof. Sapna A. Narula
Professor & Dean
Prof. Sapna A. Narula is a well-known academician / researcher/practitioner in sustainability who has made immense contribution to the field of sustainability in business landscape through her teaching, research and consultancy efforts. She has also played a key role in advancing education for sustainability in India through a number of initiatives targeted at raising awareness generation and capacity building amongst corporates, youth, managers and policy-makers.
Her previous work experience include working at TERI School of Advanced Studies where she was heading Department of Business & Sustainability alongside being engaged in teaching and research related to business sustainability. Before TERI SAS, she has also worked with College of Agribusiness Management, G.B. Pant University of Agriculture & Technology, Pantnagar, Uttarakhand where she provided leadership to the Centre for Management Development and Centre for Placement and Counselling besides postgraduate teaching and research on agribusiness and food supply chains
Through her career span of 21 years in University postgraduate teaching and research & industry, she has taught a number of courses to masters and PhD programmes viz. Business Sustainability, Corporate Social Responsibility, Sustainability Reporting, Sustainable Business Strategy, Business, Natural Ecosystems & Community, ICTs for Development, Agribusiness Management, Agricultural Marketing, Food Retail and Supply Chain Management, Strategic Management. Besides this, she was also involved in designing new academic programmes such as MBA (Business Sustainability), MBA (Infrastructure) MBA (Agribusiness), MBA (Food Retail & Supply Chain), MBA for engineers; restructured these programmes from time to time based on feedback from Industry, academicians, alumni and students. Her academic contribution also extends to launching a number of unique interdisciplinary courses, experimenting with innovative pedagogy and learning techniques and design of case studies on sustainability. On an average, she has taught 10 credits per year with the teaching feedback scores ranging from very good to excellent.
Her current research interests include exploring sustainability and CSR issues in Indian corporate landscape with a focus particularly on oil and gas, hotel, textile, mining and agribusiness and investigating the impact of climate change on agricultural supply chains and experimenting with strategies to reduce impact at the community level through technological, market and social interventions. Her action research has transformed lives of farmers and other underprivileged communities through sustainable business models involving capacity building, skill development and livelihood development.
Her work in the area of use of ICTs (information and communication technologies) for sustainable development has won many accolades including Prosper.Net Scopus Young Scientist Award for Sustainable Development, 2011 delivered jointly by German Ministry, United Nations University & Elsevier and a Young Scientist Award (2009) from Uttarakhand Council for Science and Technology, Government of Uttarakhand
Through her research and capacity building work, she has also contributed to a number of Central Govt. Initiatives such as Comprehensive District Agricultural Plan, AGMARKNET ( Agricultural Marketing Information Network ) scheme, Agriculture Marketing Infrastructure Scheme, National Agricultural Innovation Programme, National Mission for Sustainable Agriculture, State Action Plans for Climate Change in Maharashtra and Assam, Rural Godown Scheme ( MoA), Agri- Export and other schemes of Govt. of Uttarakhand and other states.
She has supervised four PhDs and 120 Masters theses in the area of agribusiness, sustainability and Corporate Social Responsibility. She remains highly engaged with industry / academia for consultancy and knowledge exchange efforts and has delivered various keynote talks in reputed academic institutions/ international conferences/ symposia/ seminars/industry. She has published 65 papers in international peer-reviewed journals/ books.
A management development programme on sustainability reporting conceptualized and developed by her is extremely popular amongst the corporates in India and has attracted a lot of participation from leading organizations such as Indian Oil, Bharat Petroleum, Hindustan Petroleum, Engineers India, Oil India, PAAP automotive, Sterlite to name a few. She is a qualified trainer for Business and Ecosystem training from WBCSD (World Business Council for Sustainable Development), Geneva and has also obtained faculty development training from IIM Bangalore in the field of new product development and business strategy. A topper from Delhi University, she holds a Ph.D. in area of management from Jamia Millia Islamia, New Delhi and has also earned her postgraduate degrees in science (Miranda House, University of Delhi) and management both.
Awards/ Honours
Prosper.Net Scopus Young Scientist Award (ICTs and Sustainable Development) organized by United Nations University, German Federal Ministry of Education and Elsevier Publications (2011) (Runner-up)
Young Scientist Award, Uttarakhand Council of Science & Technology, Govt. of Uttarakhand (2009) (under the discipline Science and Society including science popularization for Work on Empowering Farmers through ICT enabled Supply Chains in Uttarakhand)
Vice-Chancellors' Award for Best Research Publication ,TERI School of Advanced Studies (2017)
University Topper in master's degree M.Sc. (1996)
Best Student Award in Miranda House, University of Delhi (1994)
Second Topper in College at bachelor's degree level (1994)
Qualified JRF-NET (National Eligibility Test) conducted by Indian Council of Agricultural Research, New Delhi ( 1996 )
International Teaching & Research Exposure
Visiting Academic, Department of Management, Deakin University, Melbourne Burwood Campus (2018)
Currently supervising Masters' & Ph.D. students from Deakin University, Australia; Leipzig University, Germany & University of Graz, Austria
Worked on collaborative projects funded by International agencies FAO, IFAD, EPSRC- DFID, Deakin University
Invited to deliver talks at the Universities in India and abroad some of which include Royal Holloway, University of London, University of Phillipines, Utrecht University, Deakin University, Australia, RMIT Australia, IITs, University of Delhi and other major Universities in India
Research collaborations extending to prestigious Universities some of which include Deakin University, Utrecht University, Western Sydney University, RMIT, Melbourne, UNSW, Syracuse University, New York, University of Graz, Friere University, Berlin, De Montfort University, UK , Leipzig University, Germany to name a few
Research & Consultancy (Selected)
Sustainable Eco-restoration and Integrated Livelihood Development in Open Caste Coal Mines (Funding Agency: Ministry of Coal , 2015-2018)
Sustainability Strategies of Indian Hotel Industry ( 2013) Funding Agency: Deakin University, Australia
Sustainability Awareness Programme & Quiz at Mahindra & Mahindra Funding Agency: MUSCO Mahindra Ugine Steel Co Ltd. (2012)
Designing Climate Change Adaptation Responses for IFAD's Project in Jharkhand Funding Agency: International Fund for Agricultural Development ( 2011)
Assessing Climate Change Vulnerability and Adaptation Strategies for Maharashtra State.(Funding Agency: Deptt. of Environment, Maharashtra State, India; 2010-11)
Decentralized off-grid electricity generation in developing countries: Business Models for Off-grid Electricity Supply ( Funding Agency: EPSRC& DFID, UK ,2009-2014)
Revisiting National Mission for Sustainable Agriculture (2010) Funding Agency: Ministry of Agriculture, Govt. of India
Market – Led Extension for Farmers (Preparation of Video graphic Material for training of trainers ( 2007)
Funding Agency: Ministry of Agriculture & Co-operation, Government of India
Evaluation of AGMARKNET (Agricultural Marketing Information Network ) Central Sector Scheme ( 2006 )
Funding Agency: Ministry of Agriculture & Co-operation, Government of India
Agripreneurship Development Programme under Agriclinic/Agribusiness Scheme of Government of India ( 2005-2008 )
Funding Agency: Manage, Hyderabad.
Evaluator for C-DAP (Comprehensive District Agricultural Plan: Dehradun Distt.), Planning Commission, Govt. of India ( 2009)
Honorary Engagements:
Member, Board of Directors of Global Network for Sustainable Development, Arizona, US (2017-till date)
Member, Asia-Pacific Resource Centre, UN Global Compact Network India. (2019 onwards)
Member, CSR committee, Delhi Management Association (2018 onwards)
Advisor, Connecting Dreams Foundation, New Delhi (2020 onwards)
Member, Working Committee on Elimination of Single Use Plastics ( 2020 onwards)
Other Academic Roles:
Member, NAAC Committee, TERI SAS (2012-2019)
Member, Internal Quality Assurance Cell, TERI SAS (2014-2017)
Member, Academic Council, G.B. Pant University of Agriculture & Technology, Pantnagar (June 2004-Dec. 2009)
Member, Academic Council, TERI School of Advanced Studies, New Delhi (June 2017-June 2019)
Publications:
Papers in refereed journals -22
Book Chapters -24
Articles in Newspapers/ Magazines: 12
Invited Presentations/ Keynote / Chairs: 120 (after 2008)
Journal Special Issues Edited: 2
Management Development Programmes/ Trainings conducted: 28
Papers in Refereed Journals (Selected only)
Dangi, N; Narula, S.A. & Gupta, S. (2020) Influence on purchase intentions of Organic Food Consumers in an Emerging Economy Journal of Asia Business Studies (Forthcoming)
Desore, A. & Narula, S.A. (2020) What motivates and inhibits Indian textile firms to embrace sustainability? Asian Journal of Sustainability & Social Responsibility, 5(6)
Magray, M.A.,War, S. B. , Dutt, V. & Narula, S. A. (2020) Estimation of Biomass, Nutrient Content in Grasses and Soil at Different Elevations in Langate Forest Division, Kashmir Himalaya, India, Indian Forester, 145 (11) : 1062-1069.
Narula, S. A., Magray, M.A., Mathur, A. (2019): Business –Community Engagement: A Case of Mining Company in India, Business Strategy and Development, 2(4), 315-331
Poddar, A. , Narula, S. A. & Zutshi, A. (2019 ) A Study of Corporate Social Responsibility Practices of the top BSE 500 Companies in India and their alignment with Sustainable Development Goals CSR and Environmental Management , pp1-22
Poddar, A. & Narula, S. A. (2018) Sustainability Reporting practices in India: A Study of Selected Conglomerates; Strategic Change, 27 (6), 543-557
Narula, S. A., Magray, M.A., Desore, A (2018) A Sustainable Livelihood Framework to implement CSR in Coal Mining Sector, Journal of Sustainable Mining, 16 (2), 83-9 ( Paper nominated for Atlas Award )
Kumar, V. & Narula, S. A. (2017) Social Networking Analysis of Renewable Energy Research in India Journal of Scientiometric Research, 2017; 6 (92), 102-108
Narula, S.A. and Bhattacharyya, S., 2017. Off-grid Electricity Interventions for Cleaner Livelihoods: A Case study of Value Chain Development in Dhenkanal District of Odisha. Journal of Cleaner Production, 142 (1), 191-202
Desore, A. and Narula, S.A. (2017), An Overview on Corporate Response towards Sustainability Issues in Textile Industry. Environment, Development and Sustainability, pp.1-21. (2015-16 IF: 1.54)
Khanna, A. B. & Kumar, V. (2017): Mobile Medical Units-Can they improve the quality of Health Services in Developing Countries? Journal of Health Management, Sage Publications
Agasty, S., Raut,M., Narula, S. A., Yap, N.,Vaidyanathan G (2016) : Using Innovation Diffusion Approach to understand factors determining Innovative Practices amongst micro-units at Kolkata and Howrah; International Journal of Development and Social Research, 4(2) , 1-18
Khanna, A. B. & Narula, S.A. (2016), Mobile Health Units: Mobilizing healthcare to reach unreachable, International Journal of Healthcare Management, 1-9
Narula S.A. & Desore, A. (2016) Framing Green Consumer Behaviour Research: Opportunities and Challenges, Social Responsibility Journal, 12 (1), 1-22
Narula, S.A. (2011), Reinventing Cold-Chain Industry: Need of the Hour, Journal of Agribusiness in Developing and Emerging Economies, Journal of Agribusiness in Developing and Emerging Economies,
Narula, S.A. & Upadhyay, K.M. (2011): Sustainability Strategies of Indian Pesticide Industry: A Comparative Study of domestic vis-à-vis Multinational Firms, International Journal of Sustainable Strategic Management , 2 (4), 365-382
Narula, S.A. & Upadhyay, K.M. (2011) Product and Market Strategy Dilemma: Are Strategies of Pesticide manufacturers Green? Social Responsibility Journal, Vol.7, No.2, 282- 294
Narula, S.A. & Upadhyay, K.M.(2010) Strategy in Turbulent Environment: A Case of Domestic Pesticide Company in India , American Journal of Economics and business Administration, Vol.2, No.2, 160-168
Narula, S.A. & Chopra, S. (2010) Identifying Stakeholders' Needs and Constraints Adoption of ICT Services in Rural Areas: The Case of India, Social Responsibility Journal, Vol.6, .2, 222-236