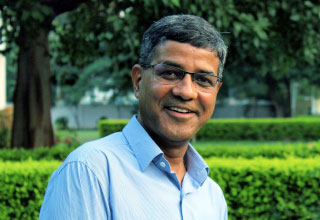 Dr. Shyam S. Phartyal
Associate Professor
shyam.phartyal@nalandauniv.edu.in
Resume
Shyam Phartyal holds a master degree in Forestry from Kumaun University, Nainital & Ph.D. in Forestry from Forest Research Institute, Dehradun. Soon after Ph.D., he received Postdoctoral Fellowship in 2001 from Vrije University Brussels (Belgium) for a year to work on soil seed bank ecology of Brussels City Forest. On his return from Europe, Council of Scientific & Industrial Research (CSIR), India awarded him an independent Research Associateship to work on seed biology of medicinal plants at FRI Dehradun. He is a recipient of prestigious JSPS Postdoctoral Fellowship from the Japanese Society for Promotion of Science & worked in the Laboratory of Ornamental Plants & Landscape Architecture, Hokkaido University, Japan. He is one among the few Indian Plant Researchers, who received world renowned Humboldt Experience Researcher Fellowship from the Alexander von Humboldt Foundation, Germany to work on seed ecophysiology of amphibious/wetland plants at the University of Regensburg in Germany. Prior to joining, Nalanda University in August 2018, he has served as an Assistant Professor for 10 years in the Department of Forestry & NR, HNB Garhwal (Central) University, Srinagar-Garhwal, India.
Shyam Phartyal has published 45 research papers in leading international peer-reviewed journals such as Acta Oecologica, American J. of Botany, Aquatic Botany, Australian J. of Botany, Ecology & Evolution, Ecological Research, Forest Ecology & Management, Plant Ecology, Plant Species Biology, Seed Science Research, Seed Science & Technology, etc. His academic achievements have well recognized by top plant science journals including Annals of Botany, American J. of Botany, Land Degradation & Development, Plant Biology, etc by appointing him a manuscript reviewer. Till date, he has peer-reviewed 58 research manuscripts for 25 journals & serving as Associate Editor for Seed Science & Technology since 2016. His research has resulted in 725 citations with h-index of 12 in Google Scholar.
Research interests:
Shyam Phartyal core research interest includes investigation of the eco-physiological life-history traits of plant species from different habitats (ranging from wetland to woodland), & with different life-cycle & life-forms, with a primary focus on plant regeneration from seeds. More specifically, he is interested to study the seed germination ecology, dormancy, seed desiccation & storage physiology, soil seed bank ecology, & other related plant functional traits (responsible for plant's persistence, regeneration, dispersibility), in order to use them for biodiversity conservation, vegetation recovery & as a tool for climate change research to better understand community assemblage of the plant ecosystems. His secondary research focus is on citizen science, plant herbivory, invasive species & utilization of the wealth of historical records archived in herbaria & natural museums to disentangle the long-term trend in plant phenology.