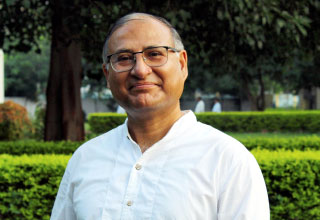 Dr Somnath Bandyopadhyay is an Associate Professor at the School of Ecology and Environment Studies, Nalanda University since 2014, where his teaching and research focus on the interface of environment and development, particularly in the context of water resources.
Dr Bandyopadhyay has contributed to the Academic Framework of the University, and the unique interdisciplinary Master's curriculum at the School. Since Jan 2019, he is managing the implementation of an interdisciplinary, solution-oriented, small activity research programme for aquifer recharge and reuse, supported by the Australian Council for International Agriculture Research (ACIAR).The project is analysingopportunities for sustainable intensification of agriculture and increase incomes of small-holder farmers. Dr Bandyopadhyay takes interest in several environmental and developmental issues in the neighbourhood, particularly related to water, sanitation and hygiene, through student research and outreach programmes. He is also supporting the Government of Bihar as a Member of the State Wildlife Board and a member of the standing committee for the State Wetland Development Authority.
Dr Bandyopadhyay combines his core expertise in environmental sciences with broad-based knowledge of environmental economics and experience in public policy. From a basic degree in biological sciences, he broadened his horizons progressively to cover Marine Sciences (MSc from Calcutta University) and Environmental Sciences (MPhil and PhD from JNU, New Delhi in 1994). During his MPhil, he published the first comprehensive ecological description of Lake Chilika in Odisha – an initial Ramsar site in India. His doctoral thesis explored the fundamental relations between hydrologic regimes and diversity of macroinvertebrate communities in a floodplain wetland (River Yamuna, Delhi).
Over the next two decades, he worked in the areas of public policy and development actions with both state agencies and international civil society organisations. As a team lead at the Gujarat Ecology Commission, he led the production of the first State Environment Action Plan in India, with support from the World Bank in 2003.He worked on chronic poverty, promoted civil societyinnovations, and developed a Multi-Input Area Development for Bihar in 2010 through the Aga Khan Foundation, managing European Union and other grants as a Senior Programme Officer. Since 2011, he began to focus on water issues through his stints at the National Ganga River Basin Authority and the Safe Water Network (a New York based philanthropy promoting market approaches for access to safe drinking water among under-served communities). In 2016, he contributed a chapter to a book published by Elsevier.
As a working professional, Dr Bandyopadhyay studied Environmental Economics and Policy Analysis at the Harvard Institute for International Development, Harvard University, USA in 1999 and Market Systems Development at the Springfield Centre, UK in 2008. His vast professional experience and exposure is reflected in many of the courses that he offers at the Nalanda University.
Research and Publications 
Dr. Bandyopadhyay combines policy with practice, natural sciences with social sciences and environment with poverty and has used government interventions, community institutions and market-based approaches to address complex issues.
He has authored over a dozen publications spanning environment and poverty issues.
His current research focus is on water, which allows him to build on his vast and diverse experience with an orientation for the future.
Work Experience 
Dr. Bandyopadhyay has done pioneering work in environment policies (led the formulation of the first State Environment Action Program for Gujarat), social development programs (notably, multi-input area development in Bihar) and scalable models to enhance access to safe water.
He spent over eight years each with the Gujarat Ecology Commission and the Aga Khan Foundation in various senior positions. He was also associated with the National Ganga River Basin Authority, the Safe Water Network and the Centre for Civil Society, and is on the Board of several non-profit agencies.
Education
Ph.D. in Environmental Sciences from Jawaharlal Nehru University, New Delhi, India Springfield Centre, UK
Professionally trained in environmental economics and policy analysis at Harvard, USA, and on making markets work for the poor at the