Beyond Campus
The University is located in Rajgir, a small hill town in Nalanda district of the state of Bihar in India. Scenic and green, Rajgir was the capital of ancient Magadh and was at that time called Rajgriha (the home of Royalty).    
Rajgir is an important place on the Buddhist and Jain pilgrimage circuits. The neighbouring villages are a rich repository of sculpture and multi denominational art. It is said that Buddha spent many years here and also delivered sermons. The first Buddhist Conclaves were held in Rajgir and the teachings were also written here.
Gridhakuta Peak
The Gridhakuta Peak also known as Vulture's Peak is the the place where the Buddha preached many sermons to his disciples including two of his most profound discourses: Lotus Sutra and the Prajnaparamita. One can either take the ropeway with the chairlift or the stone path that leads up to the peak.
Japanese Temple
The Japanese Temple is one of the must visit Buddhist sites in Rajgir. It is located close to Venu Van and has a simple design with Japanese and Buddhist exhibits. The temple is very peaceful and has areas where one can meditate for hours.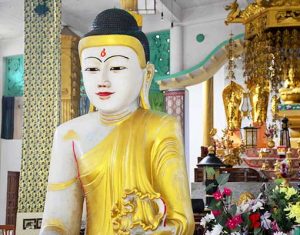 The Japanese temple located close to the Venu Van has a simple design with Japanese and Buddhist exhibits. The temple is very peaceful and has areas where one can sit and meditate for hours.
Nalanda Ruins
The Nalanda Ruins which is the excavated site of the ancient Nalanda University is situated about 12 kms from the present campus. The Ruins are spread over an area of 14 hectares with beautifully maintained gardens. A paved pathway runs across the entire complex connecting the Viharas (monasteries) and the Chaityas (temples).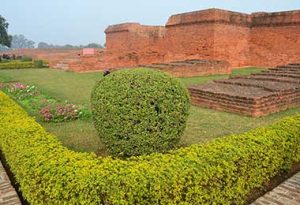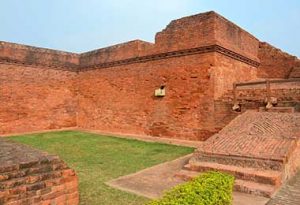 Pandu Pokhar
Pandu Pokhar was developed by the Bihar Government as a tourism attraction to rejuvenate a pond in the site. It is spread over 22 acres with a 4.5-metre-wide jogging park. It has a 30 feet statue of Maharaj Pandu and various amusement mazes. Historians say that the pond was called Pandu Pokhar because it was surrounded by five hills which were called Pandav Mountains. Popular folklore says that it was named after Maharaj Pandu the father of Pandavas in Mahabharat.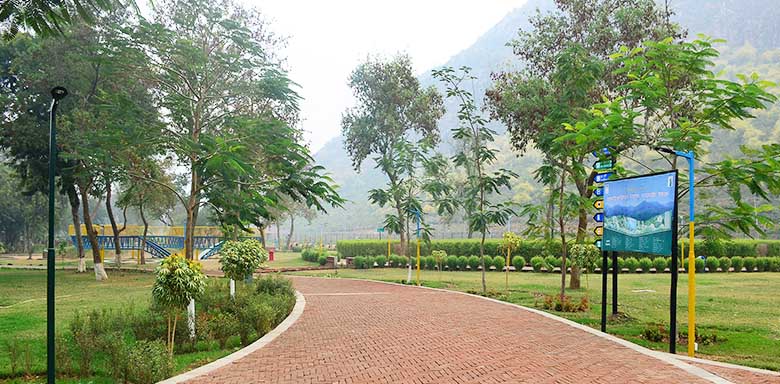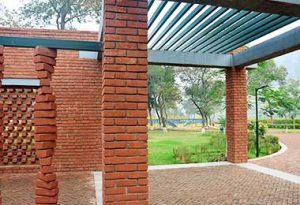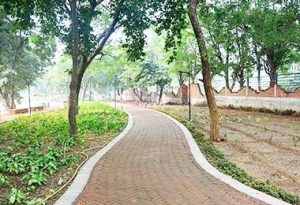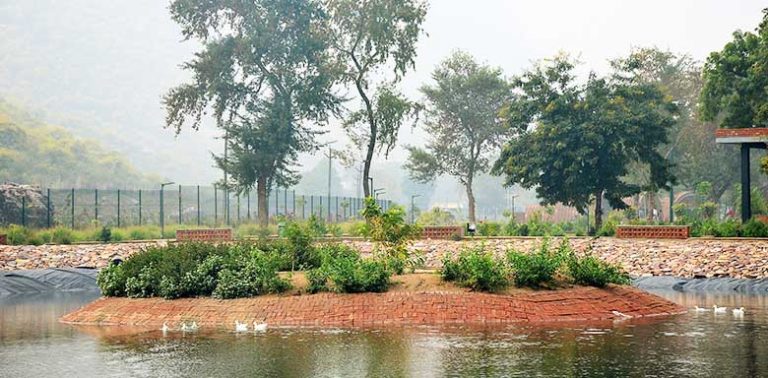 Venuvana
Venuvana or Bamboo Grove is a Monastery surrounded by bamboo trees. It is said to have been built by King Bimbisara for Lord Buddha to reside. Buddha spent many of the rain-retreats here and various early discourses were also preached here. It is also said that Buddha had received treatment here, after being wounded by his cousin Devdatta. After the death of Buddha, the monks attending the First Council are said to have rested here.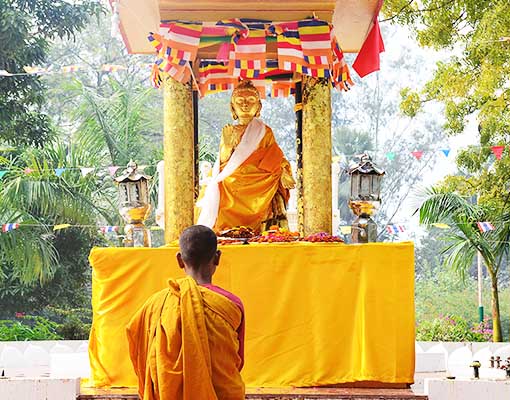 Venuvana or Bamboo Grove is a Monastery surrounded by bamboo trees said to have been built by King Bimbisara for Lord Buddha to reside during his rain retreats
Rajgir International Convention Centre
In addition to the University's own facilities, the University also uses the Rajgir International Convention Centre – an impressive facility with auditoria of various sizes, seminar rooms, an art gallery, film theatre and a cafeteria built by the Bihar Government. This facility is adjacent to the Tathagat Residential Hall