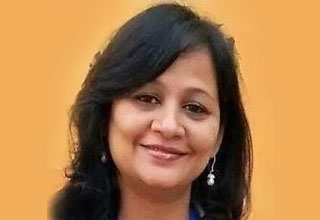 Dr. Anubha Prasad
Former GM, SIDBI
Founder and CEO
Karekeba Ventures, India

Anubha is the founder CEO of Karekeba Ventures (Kare-ke-ba- We must, in Bhojpuri), an incubation-cum-impact investment platform for home-grown startups and innovation-driven businesses in under-served geographies of India, what we call 'Bharat'. Founded in October 2020, Karekeba is curating high potential startups from Bharat and mentoring them for scaling up and building their investment readiness which is followed up by securing investments for them.
Anubha worked as the National Coordinator, India, at the UN Environment Programme (2018-2020) leading projects that strive to put inclusion, innovation, equity and sustainability at the heart of economic policy making. She worked for integrated policy making as well as project implementation for inclusive green development, sustainable finance, innovation-driven enterprises and sustainable livelihoods.
An NTS Scholar, Electrical Engineer; MBA (Finance and Strategy) and a Certified Associate of the Indian Institute of Bankers, Anubha has 23 years' experience at Small Industries Development Bank of India (SIDBI). She held key positions- General Manager heading several field offices; Team Leader at SIDBI's Sustainable Finance and International Cooperation Vertical and at its Central Loan Processing Cell, working on MSME financing & development, risk analysis, impact investing, Sustainable Finance, Circular Economy and gender mainstreaming and mentoring hundreds of first-generation entrepreneurs at the bottom of pyramid. She successfully managed the World Bank projects on resource efficiency; Green Climate Fund; EU-Switch Asia projects; GIZ's Responsible Finance Projects etc. She was associated with Poorest States Inclusive Growth Programme for financial inclusion of women at the bottom of pyramid in 4 poorest states.
A thought leader, Anubha has held Board level positions in several Govt. and private companies & is presently on the Advisory Board of World Resources Institute. Anubha is a visiting faculty and jury of business incubators at several B-Schools. She was the team leader for SIDBI officers' voluntary initiative of mentoring first-generation women entrepreneurs, a work which was lauded by NITI Ayog and GoI. With her vast exposure in start-up financing, SME credit delivery, micro finance, financial inclusion, gender equity, impact investing & multi-lateral engagements and with her strong competencies befitting the UN system, Anubha hopes to make 'Bharat' an equal partner in India's growth story.