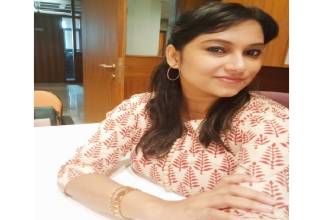 Dr. Elora Tribedy is a field-archaeologist and assistant professor, affiliated with the School of Historical Studies at Nalanda University. She also offers courses in the School of Buddhist Studies, Philosophy and Comparative Religions at Nalanda University. She completed her undergraduate studies in History from Presidency College, Kolkata and post graduate studies in Ancient History, Culture and Archaeology from Deccan College Postgraduate and Research Institute with distinction. Her doctoral research, funded by Indian Council for Historical Research, explored the missing links between the Buddhist cult of Tara in the historical period and the cult of Tara in contemporary worship in Eastern India. She has done interdisciplinary summer school program in the University of Antwerp, Belgium.
Dr. Tribedy offers courses on History and Archaeology, Historical Archaeology, Visual Traditions in Buddhism: Art and Iconography and Comparative Religions at Nalanda University. Prior to joining Nalanda, she has also taught post-graduate courses in multiple themes of ancient history and archaeology at the Department of History and Archaeology, North Eastern Hill University, Meghalaya, Department of Ancient Indian History, Culture and Archaeology, Visva-Bharati University, West Bengal and Department of History, University of Delhi, Delhi. She has been an instructor for the training workshop on sculptures and iconography of Department of Archaeology, Ministry of Culture, Government of Bangladesh in 2018.
Dr. Tribedy's research interest covers themes and debates in Visual Traditions of South and Southeast Asia, Landscape Archaeology, Ethnoarchaeology, Colonial Acquisition, Collection and Repatriation of Sacred Images of South and Southeast Asia and Heritage in Asia. She has published a number of research papers in journals and edited books. Her invited lectures and presentations in national and international platforms have highlighted understudied currents in the field of art and archaeology of Indian Buddhism. In her research project funded by Nehru Trust for the Indian Collections at the Victoria & Albert Museum, she has reported on spatial demarcations in the visual representations and ritual dimensions of Buddhist images at the cave-monasteries of western Deccan.