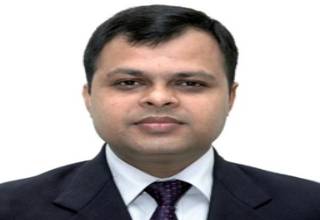 Dr Rajeev Ranjan Chaturvedy is an Associate Professor affiliated with the School of Historical Studies and the School of International Studies at Nalanda University. He is also an Adjunct Fellow at the Institute for Australia India Engagement (IAIE), Brisbane; and Adjunct Senior Associate Fellow at the Asian Confluence, Shillong, India. He obtained Ph.D. in South Asian Studies from Jawaharlal Nehru University, New Delhi. His research and teaching interests include India's Foreign Policy, India's Economic and Business History, Bay of Bengal Region, Maritime Security and Interconnections, India's Civilizational and Historical Links, South Asian Regional Security and Developments, China-Southern Asia Strategic Access.
Rajeev was a Visiting Fellow at the S. Rajaratnam School of International Studies (RSIS), Nanyang Technological University, Singapore. He was also a Visiting Fellow at Research and Information System for Developing Countries (RIS) in New Delhi and a Research Associate at the Institute of South Asian Studies (ISAS), National University of Singapore. He has also worked with the Indian Council for Research on International Economic Relations (ICRIER) and was heading Foreign Policy Division at the Federation of Indian Chambers of Commerce and Industries (FICCI) in New Delhi.
Rajeev has published widely on his subject. He has participated and presented papers in several international forums and conferences and has contributed in print and electronic media including The Financial Times, The Week, The Times Now, The Hindu, The Economic Times, Financial Express, Channel News Asia, CCTV News/CGTN, South China Morning Post, Nikkei Asian Review, The Business Standard, The Pioneer, BBC Vietnamese, The Quint, Dainik Jagaran (largest Hindi Daily), Nai Dunia (Hindi Daily), Prabhat Khabar (Hindi Daily), Dainik Bhaskar (Hindi Daily), Qaumi Tanzeem (Urdu Daily), The Telegraph.