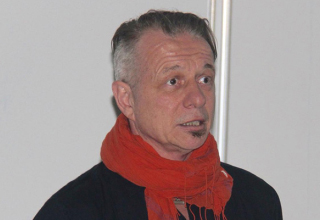 Dr. Yann-Pierre Montelle
Visiting Professor
Dr Yann-Pierre Montelle completed his PhD at Brown University in Anthropology and Performance studies. He is a rock art researcher and speleo archaeologist specializing in the human use of caves in Prehistory.  He has conducted international fieldwork and research in India, Australia, France and New Zealand, and published on a variety of topics related to rock art.  He has lectured in Human Evolution, The Archaeology of Pleistocene Rock Art, and Shamanism at Canterbury University, New Zealand. More recently, he has shifted his investigative interests towards India's fascinating prehistory.
Courses offered (Open to all)
Pre-history of the Indian Sub-continent
Approaches to Material Culture
Human Evolution
Performance Studies
Pre-history of the Indian Sub-continent
This course begins over a million years ago in Attirampakkam, Tamil Nadu, and ends with the Rishis' Rig Veda some 7000 years ago. After investigating the sometimes controversial evidence from the lower and middle paleolithic, we will quench our cognitive thirst with ample archaeological material from the upper Paleolithic. We will then follow the footsteps of Mesolithic migratory hunter gatherers, and we will observe the complexity of semi- and fully sedentary Neolithic populations. With the close of the Neolithic, we will track the remains of the first great urban centers in the Indian sub-continent – the product of migratory waves from the steppes to the Indus Valley. We will conclude this journey by carefully exploring aspects of the resulting Vedic civilization.
Approaches to Material Culture
In the Anthropocene age of commodities, the object is manufactured, consumed, discarded, and recycled at an unprecedented pace. In the name of culture, we are burying nature under piles of indestructible material. How did we get to this somber state? The simple hand-axe took million years to move to the more effective blade. Another few hundred thousand of years were required for the blades to be turn into knives of industrial yield. And a quick look into your familiar material world, will reveal fascinating narratives about hand-axes turned into knives. These narratives are what we are going to explore. For this course, we will approach the object archaeologically – that is – we will re-member the object by re-articulating its entangled relationship with human culture. From Heidegger to Guy Debord, we will borrow the voices of philosophers and social scientists for whom the object was/is the "thing"!