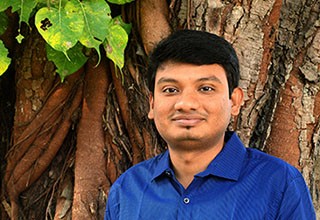 Kashshaf Ghani specializes on pre-modern South Asia covering the years 1000-1800 A.D. His fields of research cover society, politics, religion and cultural interactions in this region, with a focus on History of Sufism, its practices, interactions, networks; Indo-Persian history; community interactions; cosmopolitan cultures; interactions of South Asian languages. He also researches in areas of Asian interconnections; Historical connections of South Asia with West and Central Asia; Muslim networks in Asia; travel and transregionalism in Asian societies.
He teaches courses on pre-modern North India and the Deccan, introductory course on Asian history; along with specialized courses on Sufi and Bhakti traditions, historical understanding of Asian interconnections and Asian societies, pre-modern West and Central Asia.
He has supervised Master's dissertation on topics ranging from local religious cults, Mongol history, history of women, history of the Malabar region, Sufi and Bhakti traditions, cultural history of Bhutan, textile manufacturing and trade, history of weapon production and and warfare, social history of poet Annamacharya, history of Assam, Sufi shrines, and architecture.
Kashshaf Ghani was trained in history from Presidency College (Calcutta), and the University of Calcutta. He received his PhD in History from the University of Calcutta. He has held research position at the Asiatic Society, Kolkata as the first Sir Amir Ali Fellow; postdoctoral research positions at the University of Sorbonne-Nouvelle, Paris, as the inaugural Perso-Indica fellow, and at the Zentrum Moderner Orient, Berlin. He is currently pursuing his postdoctoral research on transcultural and transregional connections between Muslim communities in South and West Asia. He has traveled extensively to deliver lectures in universities in Asia and Europe.
He received a grant from the United States Department of State Educational and Cultural Bureau to study religious pluralism in the U.S. as an academic visitor in summer 2018.
He is currently working on a monograph from his doctoral dissertation. His publications range from edited volumes to articles in peer-reviewed journals, books and conference volumes. He has been a part of SEPHIS (South-South Exchange Programme for Research on the History of Development based in Netherlands) for over a decade and is currently associated with it as an adviser.
He has held teaching positions at the Aliah University and the University of Calcutta. He has also co-taught a course on Global Asia at the New York University-Shanghai.
Research and Publications
Monographs/Edited Volumes:
Imagining Asia(s): Networks, Actors, Sites, (Co-edited with Andrea Acri, Sraman Mukherjee and Murari Jha), ISEAS – Yusof Ishak Institute, Singapore, 2019
Exploring the Global South: Voices, Ideas, Histories, (Co-edited with Samita Sen), Kolkata, 2013
Articles –
Journals:
Esoteric Songs of Hason Raja, Journal of Islamic History and Culture of India, Volume 4, 2015
Vestige of a Dying Tradition: Tuhfat ul-Muwahhidin in Nineteenth Century Bengal, Studia Iranica, Volume 44, Issue 1, 2015
Sound of Sama: The Use of Poetical Imagery in South Asian Sufi Music, Comparative Islamic Studies, Volume 5, Number 2, 2009
Gleanings in Spirituality in the Poetics of Jalaluddin Rumi, Philosophy and Progress, University of Dhaka, Volume XLIII-XLIV, 2008
Edited Volumes:
"The Politics of Pilgrimage: Reception of Hajj among South Asian Muslims", in Kashshaf Ghani, Andrea Acri, Sraman Mukherjee and Murari Jha (eds.), Imagining Asia(s): Networks, Actors, Sites, ISEAS – Yusof Ishak Institute, Singapore, 2019.
"The Vernacular Tradition and Islam in Bengal", in Prasanta Mandal and Anjona Chattopadhyay (eds.), Murmurs of History: Essays in Honour of Professor Ranjit Sen, Progressive Publishers, Kolkata, 2018.
"Seeking a Sufi Heritage in the Deccan: Shrines, Sama and Succession", in Anjana Sharma (ed.), Records, Recoveries, Remnants and Inter-Asian Interconnections: Decoding Cultural Heritage, ISEAS Publications, Singapore, 2018.
"Ties in Troubled Times: Travel and Transregionalism in India-Ottoman Relations", in Kinsghuk Chatterjee (ed.), Contours of Relationship: India and the Middle East, Knowledge World Publishers, New Delhi, 2017.
"Exploring Dimensions of Medieval Deccan as Revealed through Manuscripts", in Zareena Parveen (ed.), History of Medieval Deccan as Reflected in Arabic and Persian Manuscripts, National Mission for Manuscripts, New Delhi, 2017.
"Medieval Indian Political Thought: Key Ideas", in Lopamudra Sengupta (ed.), Indian Political Thought and its Contemporary Relevance, Atlantic Publishers, New Delhi, 2016
"Ziauddin Barani (1288-1357)", in Lopamudra Sengupta (ed.), Indian Political Thought and its Contemporary Relevance, Atlantic Publishers and Distributors (P) Ltd., New Delhi, 2016
"Mystical Tradition and Voices of Dissent: Experiences from Bengal", in Lloyd Ridgeon (ed.), Sufism and Salafism, Bloomsbury, London, 2015
"Succeeding the Master: Locating Chishtia Sufis in the Political and Social Environs of Peninsular India", in N. Chandramouli (ed.), Religion and Society in Peninsular India (6th- 16th Centuries CE), Aryan Books International, New Delhi, 2015
"In Quest for the Unbound: Sufi Ritual as Sacred and Secular", in Kurian Kachappilly (ed.), Mystic Musings in Religions, Christian World Imprints, New Delhi, 2013
Contributor and Member of Editorial Board – Ateet o Aitijhya (Past and Heritage), History Textbook for Class VII, West Bengal Board of Secondary Education, 2012
Bharatiya Upomahadesher Patabhumikay Sufibader Kramabikash, (In Bengali), in Samir Kumar Patra, Shekhar Bhowmick & Arindam Chakraborty (eds.), Itihascharcha: Sampratik Prabanata (Research on History: Recent Trends), Department of History, Mahishadal Raj College, 2011
Conference Volumes:
"Converging Networks of Piety: Sufi Traditions and Practices from Aurangabad", in Conference Volume on Histories of Interactions, Connections and Subjectivities in Aurangabad Region, Aurangabad History Society & Chishtiya Arts College, Aurangabad, 2015
Perso-Indica: [ISSN 2267-2753]
ENCYCLOPEDIA ENTRIES:
"Dara Shukoh", Bloomsbury Encyclopedia of Philosophy, Forthcoming
"Khuldabad", Encyclopedia Iranica, Forthcoming
"Tomb Complexes in Khuldabad", Sahapedia, http://www.sahapedia.org/tomb-complexes- khuldabad , 2016
Magazines:
Where Knowledge meets the Seeker: Nalanda University, SEPHIS e-Magazine, Vol. 10, No. 1-2, 2014
Imperialism and the World Order, Bangladesh Defence Journal, Issue 10, January 2009
Messenger of God-Apostle of Peace, Radiance Viewsweekly, Vol. XLIV, No. 41, 2007
Labour Legislations across South Countries, SEPHIS e-Magazine, Vol. 3, No. 2, 2007
Ethics of Family Life, Radiance Viewsweekly, Vol. XLIV, No. 24, 2006
Caught on the Wrong Side, Radiance Viewsweekly, Vol. XLIV, No. 14, 2006
Forgotten Histories-Mistaken Identities, Radiance Viewsweekly, Vol. XLIV, No.10, 2006
Islam Today, SEPHIS e-Magazine, Vol. 2, No. 3, 2006
Identities and Pasts: The Bengali Muslims, Presidency College Annual Magazine, 2002
BOOK REVIEWS:
"Scrolling Down for More: Junaydis in the Deccan", review of Suleman Siddiqi, The Junaydi Sufis of the Deccan: Discovery of a Seventeenth-Century Scroll, Primus Books, Delhi, 2014, pp. 294, Deccan Studies, Vol. XIV, No. 1, 2016
"In the Footsteps of Mystics", review of Muzaffar Ali (ed.), A Leaf Turns Yellow: The Sufis of Awadh, Bloomsbury Publishing India, New Delhi, 2013, pp. 276, SEPHIS e-Magazine, Vol. 9, No. 4, 2013