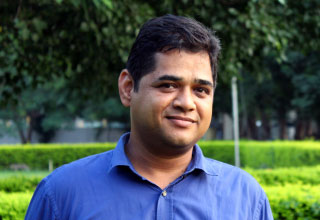 Dr. Kishore Dhavala
Assistant Professor
k.dhavala@nalandauniv.edu.in
Resume
Kishore Dhavala holds a Doctoral degree in Economics from Florida International University, Miami, USA. He has a Masters degree in Quantitative Economics and a Bachelors degree in Mathematics, from Andhra University, India.He is currently working as an Assistant Professor in the School of Ecology and Environment Studies at Nalanda University. Prior to Nalanda University, he has worked as a Postdoctoral researcher at Basque Centre for Climate Change, Bilbao (Spain). He was as a consultant at Institute of Economic Growth (IEG), Delhi and Indira Gandhi International for Development Research (IGIDR), Mumbai. His research interest are in the areas of Emissions Trading Markets, Mitigation and Adaptation policies of Climate Change, Climate Insurance, Valuation of Ecosystem Services, Energy Policies, and Economics of Crime. His works with other colleagues had a significant impact on the policy makers especially, the report on cost benefit analysis of metro rail project helped in starting of new metro rail projects in major cities of India. His works on protecting the endangered bird species alarmed the policy makers and helped them to undertake more protective measures towards conserving endangered species.
Education/Teaching Background:
Ph.D. in Economics, Florida International University, Miami, USA
Masters in Economics, Florida International University, USA and Andhra University, India
Teaching:
At Nalanda University, Economics of Environment, and Economics of Climate Change, Energy Economics, and Valuation of Ecosystem Services, Research Methods and Communication, Statistics for Environment.
At Florida International University, he was an instructor and taught various economics courses. At IEG, Delhi, he has given lectures to Indian Statistical Service and Indian Economic Service officers on statistical methods and research methodology.
Publications:
Getachew F. Belete, Alexey Voinov, Iñaki Arto, Kishore Dhavala, Tatyana Bulavskaya, Leila Niamir, Saeed Moghayer and Tatiana Filatova (2019). Exploring low-carbon futures: a web service based approach to linking diverse climate-energy-economy models, Energies, 12(15), 2880.
Markandya, A., Dhavala, K., & Palma, A. (2018). The role of flexible biofuel policies in meeting biofuel mandates. AIMS Energy, 6, 530-550.
Arto, I., Dhavala, K.,. Bulavskayab, H. Boonman, S. Moghayerb, J. Hu, T. Filatovad and L.Niamird (2018) What would a socio-economic and energy technology system be like if we limit climate change to Paris Agreement? An hybrid modelling system approach, Indian Society for Ecological Economics Conference proceedings, INSEE, KILA, India.
Murty, M. N., Dhavala, K., Ghosh, M. and Singh, R. Social Cost-Benefit Analysis of Delhi Metro in Environment, sustainable development and well-being: valuation, taxes and incentives, Oxford Publication Press, USA (2009).
Markandya, A., Taylor,T., Longo,A., Murty M.N., Murty S., and Dhavala, K. Counting the cost of vulture declines: An appraisal of the human health and other benefits of the vultures in India, Ecological Economics, 67(2), 194-204 (2008).
Murty, M.N., Kumar, S. and Dhavala, K. Measuring Environmental Efficiency of Industry: A Case Study of Thermal Power Generation in India, Environmental and Resource Economics, 38(1), 31-50(2007).
Chatterjee, S., Dhavala, K. and Murty, M. N. Estimating Cost of Air Pollution Abatement for Road Transport in India: Case Studies of Andhra Pradesh and Himachal Pradesh. Economic and Political Weekly, 42(36), 3662-3668 (2007).
Dhavala, K. and Murty M. N. Shadow Exchange Rate or Indian Economy, manuscript (A chapter in the report National Parameters for Project Appraisal in India) report submitted to Planning Commission, India (2007).
Working papers:
Socio-economic impacts of rural electrification through solar mini-grid: A case of Rural Bihar (with Preeti Jha, Prabhakar Sharma and Aviram Sharma)
Economic Assessment of Household-Biogas: A Tale of Two Villages of Samtse Dzongkhag, Bhutan (with Indra Jeet Sunuwar)
Saving Kanwar Jheel (Kabar Tal): a test-case for wetland conservation policies in India (with Tatsama Motilal, Somnath Bandyopdyay, Aviram Sharma and Prabhakar Sharma)
Carbon Emission Reduction Scenarios and the Prospects of Emissions Trading in India (with Deekshith Pinto)
On the Causal Dynamics between Low Carbon Energies, Economic Growth, Trade Openness and Fossil Reserves (with Anil Markandya and Iñaki Arto).
Renewable Energy Transition in Electricity Sector Evidence from a Panel of Representative Regions of the World (with Anil Markandya and Iñaki Arto)
An Application of Extreme Value Theory for Measuring the Risk of Voluntary and Compliance Emissions Trading Markets (with Mahadev Bhat).
Dynamic Interaction of Monposony and Monopoly players in the Emission Trading Market: A Case of Side Payment Mechanism (with Mahadev Bhat).
Catch Me If You Can: Identifying the Causal Effect of Criminal Caseloads on Police Effectiveness (with Jungmin Lee).