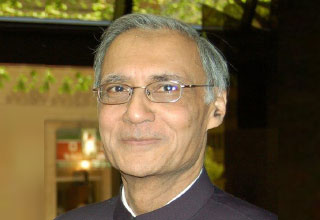 Prof. Arvind Sharma
Distinguished Visiting Professor
Formerly of the IAS, Arvind Sharma is the Birks Professor of Comparative Religion in the School of Religious Studies at McGill University in Montreal, Canada in, He has taught in Austrlia (University of Queensland, Sydney) and the USA (Northeastern, Temple, Boston,Harvard) and has published extensively in the fields of comparative religion and Indology.
He was instrumental, through three global conferences (2006, 2011, 2016), in facilitating the adoption of a Universal Declaration of Human Rights by the World's Religions. His recent books include The Ruler's Gaze: A Study of British Rule over India from a Saidian perspective, Gandhi: A Spiritual Biography; Hindusim and It's Sense of History and Decolonizing Indian Studies. He has contributed to and edited Our Religions: The Seven World Religions Introduced by Prominent Scholars from Each Tradition. He is also the general editor of the Encyclopedia of Indian Religions (Dordrecht, Netherlands: Springer,2017).
Course offered (Open to all)
Introduction to Study of World's Religions
Seminar Course
Introduction to Study of World's Religions
This course introduces the student to what is now known as the academic study of religion. Every religion has a long history of studying its own scriptures but the academic study of religion is of relatively recent origin. Its beginning is usually placed in the middle of the nineteenth century. It has since grown into a full-fledged and flourishing field of study. It is also known as the comparative study of religion. This course will cover the intended material in four stages or parts.The first part will consist of tracing the beginning and growth of the academic study of religion in the West, and as well as a history of the attempts to introduce it in India. We will discover that academic study of religion is characterized by three features: it is multi-traditional, it is poly-methodic, and it is multilingual. The second stage will consist of a survey of the origin, basic teachings, and history of at least the following seven religious traditions: Judaism, Christianity, Islam, Hinduism, Buddhism, Confucianism, and Daoism. The third stage will involve an examination, in outline, of the various methods of studying religion such as the historical, the phenomenological, the sociological, the psychological, the philosophical , the dialogical , and so on. The multilingual nature of the academic study of religion will also be probed at this stage.The fourth and final phase will consist of discussing the various attitudes which have been adopted towards the variety and plurality of the religious traditions which characterize the world. It will also discuss how the various religions are facing new developments in our times such as feminism, terrorism, environmental issues, and so on. Finally, it will examine the relevance of the academic study of religion to India .