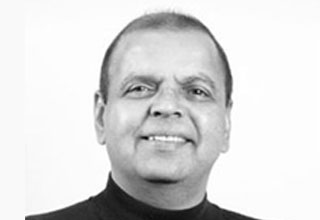 Sh. Kamlesh Dwivedi
President & General Partner,
3 Lines Venture Capital,
Denvar, USA

Kamlesh Dwivedi is the President and General Partner at 3Lines Venture Capital based out of Denver, USA. His current technology interests and investments span over a broad spectrum of Artificial Intelligence, Software Defined Networking and Blockchain based distributed applications. Mr. Dwivedi has been a CIO of several global corporations in their transformative phases in the US and Japan and has done business in all major economies of the world. He has helped create multi-billion dollars return in portfolio companies of global Private Equity firms such as Bain Capital.
As a CIO, he has led IT organizations during periods of profound changes in the companies' business models and their scale and has been involved with more than two dozens of mergers and acquisitions. Whether it was the epochal move to broadband in the cable and telco industries in the 1990's or the rapid globalization and a technology driven productivity improvement in the BPO industry in early and mid-2000's in the US and Japan, Mr. Dwivedi has successfully navigated along the transformational vectors and through the change vortices.
Mr. Dwivedi holds a Bechelor of Technology degree from IIT Kanpur and has completed the program for Management Development (PMD) from Harvard Business School. . As a firm believer in 'giving is living' and in the non-linear impact of education on people's lives, have been supporting education in India through endowment of Professor Chairs and Student Scholarships at IIT Kanpur and through Shiksha Sopan founded by his friend Padma Shri Prof HC Verma. Currently, reside in Denver, Colorado, USA.